South grads come back to teach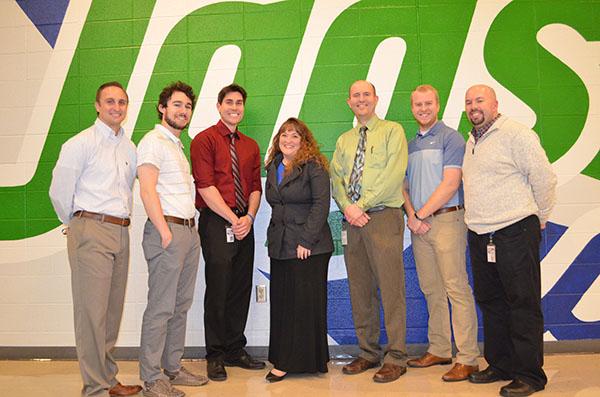 Hang on for a minute...we're trying to find some more stories you might like.
South has been building a legacy since it was established in 1992. In fact, many teachers who roam the halls today used to walk the halls as students before current students had graduated elementary school.
Teachers Danny Mathis, Ashleigh Bertrand, Katie Rucinski, David Ceule, Jakob Estep, Nathan Mooney, Jon Oyler, Nathan Dorsch, Lauren McKiddy and Heath Creek are all South alumni who currently work at South. Most of them say the building and student population has changed drastically.
"The room that I teach in did not exist; it used to be the activities office," Mathis said. "The hallway that separates the commons from the PAC that holds all that awesome artwork did not exist; the art department and library had huge renovations as well. Even though it was a beautiful building it's an even more beautiful school now."
Bertrand also recalls the school being slightly different, now offering more clubs to cater to so many diverse interests.
"The culture at South is even more accepting now than it was 20 years ago," Bertrand said.
Estep's senior year of high school was in the midst of the building being under construction and getting upgrades, and felt it was pretty cool to be a part of that transformation. Estep's senior year was filled with more than just construction, he also won Prom King.
"Winning Prom King will always be one of my favorite memories from South. It's a pretty neat feeling to be honored by classmates like that. I also participated in Mr. Jaguar and had an absolute blast," Estep said. "I can still recall all of the details of the show."
Estep was also involved in cross country, track, and newspaper. His class changed the paper's name to "The Jag" (formerly known as "Jaguar News").
These alumni were inspired to teach by men and women who still work at South (with the exception of Ceule, who had no plans of teaching and believes things just worked out this way). Mathis said he was inspired by English teacher Maridella Carter and the way she conducted her class, which made him realize what he wanted to pursue in his future. Estep was inspired by Donna Stotts and math teacher Craig Dierking for being a life-changing teacher. Bertrand was inspired by her mother, who started at Blue Springs High School before the split of the city and finished her career at South a while ago. She believes her mother made her look forward to going to work and interacting with people.
Most of these alumni were involved in activities similar to the subject they coach,teach, and sponsor.