Learning lounge installed in PAC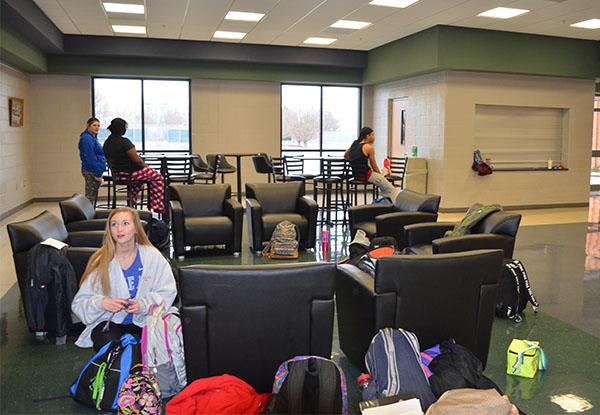 Hang on for a minute...we're trying to find some more stories you might like.
Some around South may have noticed that a lounge area has been added recently just outside the PAC that features many comfortable seating options.
This is phase one of a four-step plan to eventually turn the area into a fully functional coffeehouse and flexible learning space for the students and staff at South. Associate Principal Doug Mattson had the scoop on the plans for the new project.
"It's essentially an alternate learning space for teachers. It has Wi-Fi capability and in the near future we hope to have computer monitor screens to serve as an informational broadcast outlet," Mattson said.
Phase two encompasses the technological advances in the lounge such as the monitors and charging stations for phones and laptops. Phase three is said to occur over the summer with an installation of a wireless projector that will be used for presentations and professional development days.
"This is going to be a great place not only for students to hang out and interact, but a place that will give teachers an area outside the classroom for lessons," Mattson said.
Phase four is partnering with coffee shops in the area in order to make and sell the coffee at the future coffee bar that may be ready for business this August.
"We have a lot of kids at South that come in early with coffee anyways. This way, they can just get it here, and it also allows us to involve many different groups of kids. The art and graphic design kids can make posters. The entrepreneur studies classes can make up business plans, the marketing classes can help out with asking for coffee donations in exchange for business advertising during sporting events," Mattson said.
The end goal of the whole process would be to get to a place where teachers could put in a Google Docs order that the kids working in the coffeehouse could then cart down to that teacher's room in the morning. There is still much work to be done, but South can expect to see progress over the coming months.