Stotts awarded Teacher of the Year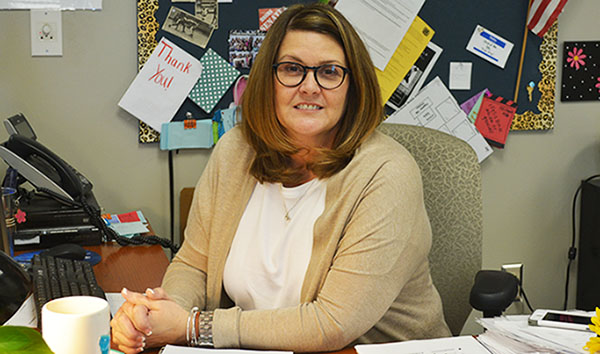 Hang on for a minute...we're trying to find some more stories you might like.
Donna Stotts, Microbiology and CSI teacher, has officially been named the Blue Springs South Teacher of the Year for the 2016-2017 school year.
This is Stotts' 11th year at South, but she has been teaching for a total of 28 years, five of which were spent as a school principal in New Mexico. This is the first time that she has been named teacher of the year, and she feels humbled by this honor.
"I was very surprised, and it was quite an honor because I looked around the room and thought, 'look at all these people who deserve this.' There are so many deserving people at this school who could be Teacher of the Year," Stotts said.
Alongside teaching, Stotts also sponsors Fellowship of Christian Athletes and started the Phoenix Award tradition at South, which is an event in May where South recognizes students who have overcome major adversity and life challenges.
Stotts said that one of her favorite thing about being a teacher is how she doesn't feel like she's going to work every day because she enjoys it so much. Forming bonds with her students is one of the reasons why she loves what she does.
"Interacting with kids makes this job fun. Having students who grow up and become your lifelong friends is probably one of the most rewarding things about the job," Stotts said.
Teaching does come with challenges, however, and Stotts believes that the most challenging thing about being a teacher is trying to make the curriculum relevant to students' lives when they are busy with other matters.
"I think it's challenging from a teacher's perspective to find a way to make what I teach important to them. Whatever I present to them, I want it to be relevant to their lives. The challenge is finding ways to make what I teach relevant to them, relevant to their everyday world, and making it something that makes a difference in their lives," Stotts said.
Principal Charlie Belt believes that Stotts is a great choice for Teacher of the Year.
"She is a go-to for staff members in the science department and all over the building for advice and care and friendship and fun, and those are the kinds of things that people said about her when they nominated her, and those are the kinds of things that we think about Donna Stotts. She is amazing, she's a great Teacher of the Year for us," Belt said.
Senior Ella Buckner had Stotts as a teacher in the past for Pre-AP Biology, CSI, and Microbiology, and she is currently a student aid for Stotts' second hour class. Buckner said that she likes how Stotts is dedicated to helping her students outside of the typical school hours.
"She's really good at interacting with all the kids, and she's a lot of help. She's always here after school, and she's always here before school if you ever need to talk to her, she's just always there and always willing to help," Buckner said.
Buckner also admires how Stotts manages to bring out the best in all of her students.   
"She works so hard at her job, and she cares so much about all the kids that she teaches. She cares about them individually and she just makes everybody in her class feel wanted and special," Buckner said.