ROTC wraps up most successful season yet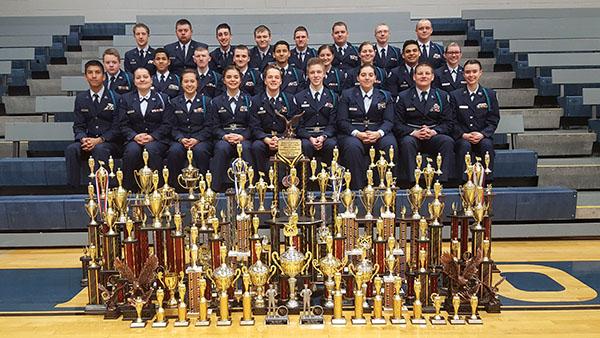 Hang on for a minute...we're trying to find some more stories you might like.
The South Air Force JROTC Drill Team had a highly decorated season full of accomplishments.
The Drill team is a group of about 25 ROTC students, including freshmen through senior students, who work every day from 6-7 a.m. to prepare for competitive military marching competitions. There are seven different categories in the regional competitions and 15-20 schools competing.
Sophomore Jada Call talks about why she enjoys Drill Team.
"I get to form close-knit relationships with my team members and it's a great way to make new friends. Drill is a really great way to practice team work," Call said.
The Drill Team has participated in eight meets and earned the title of Grand Champion in two of them. Additionally, they have earned second place overall in three of the competitions.
Drill Team sponsor Colonel Stan Cole talked about the team's accomplishments.
"They have performed extremely well this season, possibly better than ever in school history," Cole said.
Senior Miller Hicks, commander of the Drill Team, said that his favorite moment from this season was placing third overall at the Smith-Cotten meet. Hicks said that it is the hardest competition the team goes to, and they typically don't place, so he was excited to perform well and earn recognition.
Senior Mason Harper talked about why he joined the team.
"I decided to be part of Drill so I could spend more time in the ROTC program. It's a lot of fun and a great way to stay involved with ROTC and meet people who share a common interest," Harper said.
Harper agreed that the highlight of the season was placing at Smith-Cotten. He said that it was a great feeling to have put in the hard work and earned the award to prove it.
Cole said that the team works very hard, practicing every weekday for an hour before school and that the team deserves every honor they have received.