South chooses Jags of the Year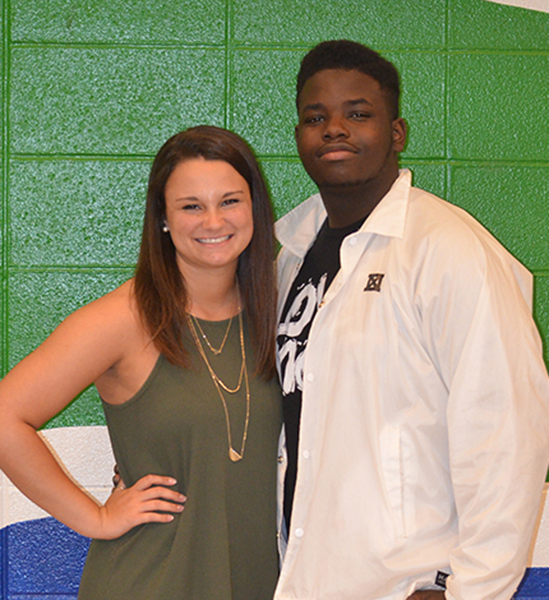 Hang on for a minute...we're trying to find some more stories you might like.
Isaiah Jackson and Sierra Pollard were named South's students of the year at senior awards night.
Each year two seniors, a boy and a girl, are honored as the Jags of the Year. The students are chosen by a committee of teachers and administrators. Students who are strong leaders in the community, maintain good grades, and have school spirit stand out to the committee.
Pollard is involved in Student Senate, NHS, HOSA, the swim team, the tennis team and she started the Remember Club at South.
"My favorite class is Senate because I get to make a difference around the school and community and because I love Mrs. Bubalo," Pollard said.
In her free time, Pollard enjoys attending school sporting events.
"Some of my favorite memories from my time at South were when we won the basketball and the football State Championships. The whole school came together to celebrate and the games were packed and so much fun," Pollard said.
Pollard will be attending the University of Kansas in the fall to study physical therapy and neuroscience. She said that she will miss her teachers and classmates from her time at South a lot.
"I'm going to miss how close I am to the people at South and the clubs I am a part of. South feels like a family, not just a school and that's what I love about my time here," Pollard said.
Jackson is involved in Jag TV, the BACC leadership team, DECA, the football team, the track team, FCA and he is the president of the new diversity club, Jags United.
"My favorite memories from South are probably when we won the State title in football in 2015, that was one of the best nights of my life, and senior prom was a lot of fun," Jackson said.
Jackson said that he is going to miss the community atmosphere at South and being so close to the staff and students around the school.
"I really like the marketing classes I've taken at South, I've done a lot of them and they are really interesting and I'm going to miss Mrs. V, she's one of my favorite teachers," Jackson said.
Jackson will be attending the University of Missouri after graduation to major in Convergence Journalism with a double minor in Black Studies and Business.