Boys tennis tops LS to win District again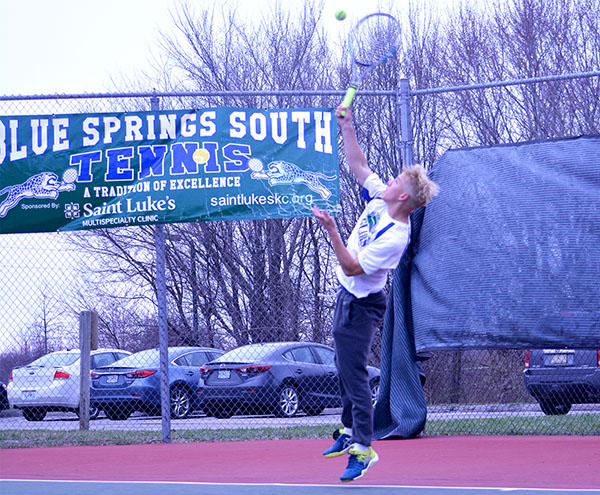 Hang on for a minute...we're trying to find some more stories you might like.
The boys tennis team has repeated as district champs with a 5-4 win against Lee's Summit North and 5-3 win against Lee's Summit.
One of the main parts and key leaders of the team is senior Wyatt Walker. He talked about what adjustments the team made during the season and what improvements he has made.
"I think the we adjusted to changing weather conditions really well. We worked hard in practice and did what the coaches said and I think it paid off really well for us. Over the season, I've just been working on my serve and just putting balls in play where the opponent can't get to them," Walker said.
The team started off the season 3-2 but finished the last half of the season strong ending it with a 4-1 record in the last five matches.
Head Coach Nathan Mooney talked about how he thinks the team performed this season.
"I think we competed pretty well this season, that being said we did have some consistency issues throughout the season and showed in some matches that we should've won. Some of the lower varsity guys have been stepping up when the top guys weren't having the best days. Sammy Klosener and Justin Cooper really stepped up for us and helped us out a ton this year," Mooney said.
Walker has been a part of the tennis team for two years and is one half of the top varsity doubles team. He talked about his favorite part of the season.
"Just being with the guys is great. I love the bus rides home after matches, I really get the sense of family with everyone," Walker said.
Mooney talked about what his favorite part of the season was.
"Getting first in the tournament was really fun because we didn't think we would get first, but the guys didn't let that stop them and I'm happy all their hard work paid off," Mooney said.
They won 5-3 against Lee's Summit in the district final.
The next round of the playoffs for the Jags is sectionals on Saturday, May 19th.