Taylor Swift concert at Arrowhead does not disappoint
Hang on for a minute...we're trying to find some more stories you might like.
By Emily Wilson
Reporter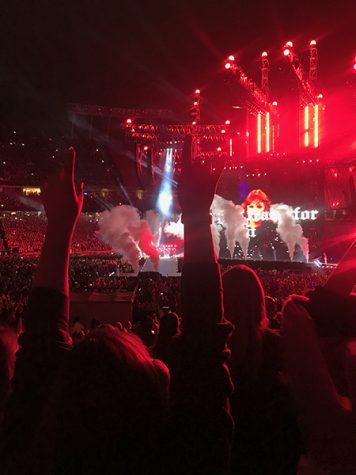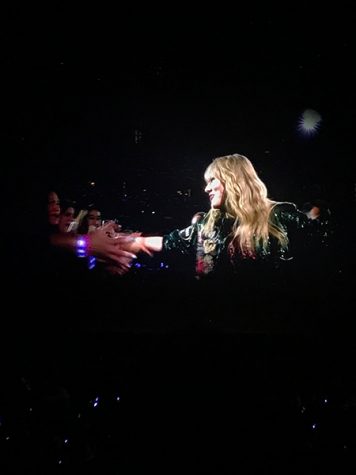 On September 8th, 2018 Taylor Swift's Reputation Stadium Tour came to Arrowhead Swift has come to Kansas City many times before because she knows how much we love her. On Saturday, her show hit a new record for total attendance at Arrowhead in the stadium's history, and it was for good reason. Swift has clearly had her many changes in her writing style over the years, but from country to pop, she never disappoints.
The concert had two opening acts. Charlie XCX was the first to perform, and she was incredible. The only thing I did notice was she did have some provocative language in her songs, but that isn't a surprise since most of her songs do. Taylor has definitely moved away from her good girl, country style (which was the entire point of the Reputation album), but regardless, her following of younger fans still remains. Almost everyone around me was either my age or younger reaching down to around 5 or 6. Charlie XCX was a good choice for the tour because she embodies everything Swift said she wanted this tour to be about (losing her perfect image while still being a role model for strong females), but I have to question whether this was a good opening act for the younger crowd.
After Charlie XCX, Camila Cabello performed. Personally, I am not a fan of her music, but she performed well and showed her Kansas City spirit by performing in a Chiefs Jersey with her name on the back. Overall, this was just another example of a tour where Swift had an amazing preshow that made the overall experience even better.
Swift came on and immediately blew everyone away. She had an amazing set that kept you busy just trying to take everything in. From flames and fireworks, to not just one, but 2 set pieces that carried her over the crowd below. She did not disappoint. She always has amazing stage presence and leaves you loving her more every time she finishes. Mid-concert, there was a microphone issue due to the persistent rain we have had recently. She was open with the audience and kept her composure as the only way for her to communicate with the tech team was through her microphone onstage. Swift is also so inclusive during her performances. During her past two tours, she has given everyone in the audience a light-up wristband that goes along with her performance. She says she does this because then she can truly see every one of her fans, from the nosebleeds to the floor.
Although this was her Reputation tour, she sang a few songs from past albums including, "Style", "Love Story", "Shake It Off", "Story of Us", and mash-ups with many songs like "Should've Said No", a song going back to her first big album, Taylor Swift. Her set list also included all of the songs from Reputation.
While Taylor hasn't announced a next album, nor if she is coming back to Kansas City again, I would recommend her tour if she is to return. I have never missed her when she comes and it's because as she changes and grows as an artist, her experience never will leave you disappointed.