Boys basketball features young roster and a new head coach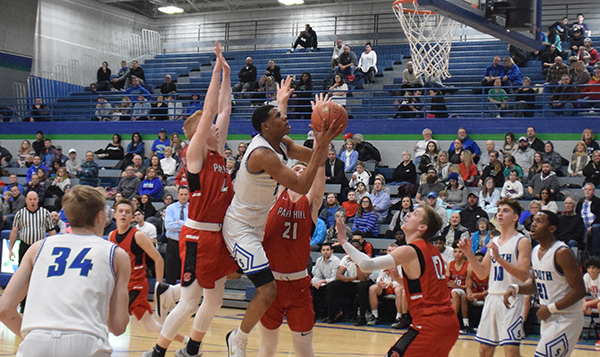 Hang on for a minute...we're trying to find some more stories you might like.
By Chris Langston
Sports Reporter
Editor's Note; Story updated to correct spelling of Jaylon McDaniel's name.
Team chemistry is vital for boys' basketball, and South boys' basketball has chemistry. Boys' basketball has been a popular spectacle for South fans as long as the school has been around. The 2018-19 team is very young with only three seniors on the team, but full of optimistic attitudes.
A change to the team is the new head coach, Josh Smith, who works over at the Freshman Center. Smith coached for 12 years under former head coach Jimmy Cain, who stepped down after last season. With a current record of 13-6, and conference record of 2-1 the young team is enthusiastic and ready to go, and with new challenges around every corner the South basketball team is up for the challenge.
"We do a good job of sharing the ball. Smith said, "There is no selfishness on this team at all guys are looking to get teammates open shots and opportunities to score the ball".  "The guys generally enjoy playing the game and playing the game with each other and obviously when you got that, that is a big step in the right direction".
The Jaguars recently won the William Jewell Holiday Classic Holiday Tournament, after a win over Park Hill South, and showed hopes of making another state championship run and returning the title to Blue Springs South.
At the heart of a team with good chemistry is a leader who is the glue of a team. This year Blue Springs South has three seniors: Haden Humphreys, Caleb Israelite, and Alex Brandt, who are pumped to be leading this team.
"I really enjoy going to practice, playing games and just being with the team" says senior captain Caleb Israelite. This is the kind of attitude that is welcomed throughout Blue Springs South and is the kind of leadership that a strong basketball team needs to keep going strong.
Most recently the Jags won 53-52 over number 1 ranked Rockhurstat Rockhurst. On Feb. 8, the Jags beat Blue Springs 73-61. The Jags were scheduled to play at Lee's Summit West on Tuesday. They are scheduled to play at Park Hill tonight.