South senate holds blood drive
By Emily Wilson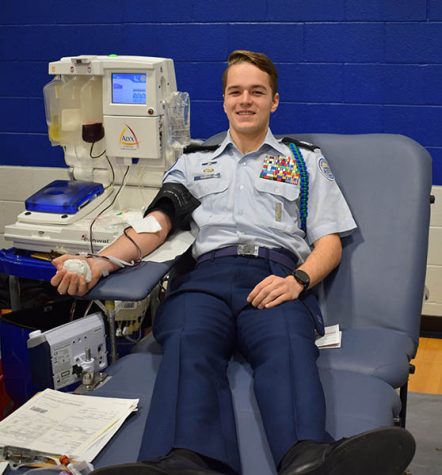 Reporter
On April 4, Blue Springs South senate hosted a blood drive through the Community Blood Center. They collected 70 pints of blood and had 30 first time donors.
Out of the 88 people who signed up to give blood, 27 were deferred, meaning the donor was ineligible for reasons such as not weighing enough, or blood sugar was off. This was a large number of students to be deferred, but because of the 10 students who stepped up to use the Alyx Machine, the number of pints raised was saved. The Alyx Machine takes blood and pumps saline into the donor at the same time so they can give double the amount of blood during the same day.
One of the 10 students who participated in using the Alyx machine was senior Isaac Hummel.
"It was cold. That was a big thing for me," Hummel said.
"They had me on the Alyx machine which actually takes two pints of blood from you while putting saline back into you which is a really cold solution. The idea that I was being able to help two people or save two lives was really comforting to me. It was a little weird at first, sort of the mental aspect that like 'I'm losing blood!' kind of got to me but after I got past that, it was okay, and I wasn't scared. The people who took the blood were very helpful and comforting too."
Senate sponsor Susan Bubalo thanked all students who donated.
"Well, you guys all saved a life, it is just that important. The Community Blood Center workers told us they were short on blood and numbers have been down. They were very grateful for every kid that came in."
South senate chose to have their blood drive through CBC because the blood donated all stays local.
"The local need has been greater the last few years, so we have switched to them rather than the Red Cross," Bubalo said.