A day in the life of Jaguar Pride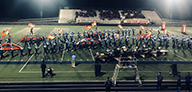 By Hallie Robinson
Features Editor
 They're the ones that get everyone ready for assemblies, the ones that are playing the fight song on Friday nights, the ones who are practicing all summer long. Blue Springs South's marching band, Jaguar Pride.  
"We're excited to be here we're excited to perform our best show and everyone's so happy and making sure everyone is okay." Says junior and drum major Marissa Mott.
Behind the scenes, there's much more that goes on than we think. From 6 hour practices to building life-long friendships, the life of a Jaguar Pride member is more than I expected.  
Over the summer, band members were at South from 2:00 P.M to 9:00 P.M every weekday to practice. Once school starts, their schedule is a little different. Depending on the instrument, sections practice Monday or Wednesday from 2:30 P.M to 4:00 P.M, but Tuesdays and Thursdays everyone is back at South at 6:00 P.M and are practicing until 9:00 P.M.  
Freshman and trombone player Jake Matthews practices Monday, Tuesday, Thursday in a week, but Mott is there for all of it. 
Other than football games, marching band competes out of state. This requires them to wake up very early in the morning in order to make it to their competition on time 
 When traveling to Tulsa, Oklahoma, their call time was 3:00 A.M.  
"I live 20 minutes away from South, as does the majority of the other kids so we had to wake up at like 2:15," says Mott "You just brush your teeth, get a quick breakfast, whether that be a banana or a muffin, and you just grab all of your belongings and your snacks. A big bag of snacks, because the bus rides are always going to be long."  
After arriving to South, the band members all sit together in the band and discuss the day ahead of them. After band director Ken Hansen gives a few words of encouragement, they all load on to the bus class by class, seniors first and freshman last.  
Bus rides last about 5 hours on average. They usually consist of sleeping and eating snacks, but it is also a good time for the members to build those bonds that can last a lifetime.  
Once they arrive to their destination, band members all get a feel for the stadium and stretch their legs a bit. After this, they all get back on the bus and wait for the staff to guide them through the day ahead of them.  
Before performing for the judges and crowd, the members need to warm up. They go through their feet movements, then warm up on their instruments, then run through the whole show.  
Once everyone is suited up and ready to roll, it's time to perform.  
Performing is their favorite part because it's such a surreal experience; it's almost like you get lost in the moment.  
"When you perform the show you cry inside, because these are your favorite people," says Mott "these are the people you spend like your entire life with."
After their performance, everyone gathers back to discuss their thoughts and feelings.  
"It's like the best talk you could ever have because everyone's pitching in to discuss what happened, how we had the best run, how we can continue to get better from there," says Mott. 
Now it is finally time for them to relax until awards. With this downtime, band members usually just hang around on or outside the bus until it's time for awards.  
While their results are not always what everyone was hoping for, that's not all band is about.  
"It's really fun and a great activity to do," says Matthews "But it's a lot to handle so you have to be organized and committed."  
Like any extracurricular activity, band has its highs and lows. With hard work and a dedicated attitude, it's all worth it in the end. 
"I would never trade it for anything else because it's literally my family," says Mott. "I've been with them for three years and I'm going to cry when I have to leave them."