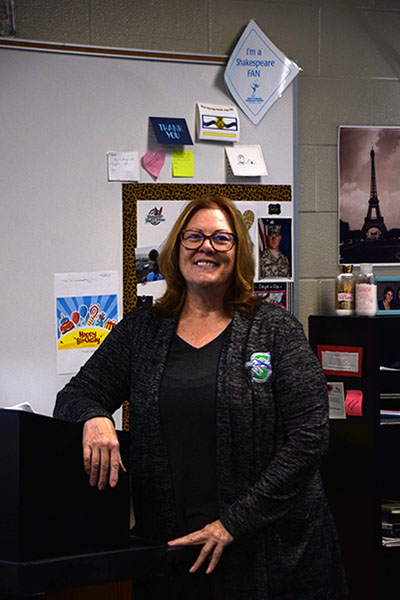 By Shyia Patrick
The Jag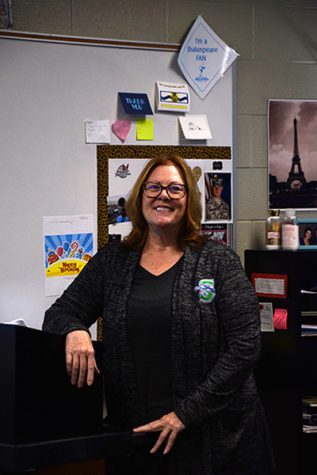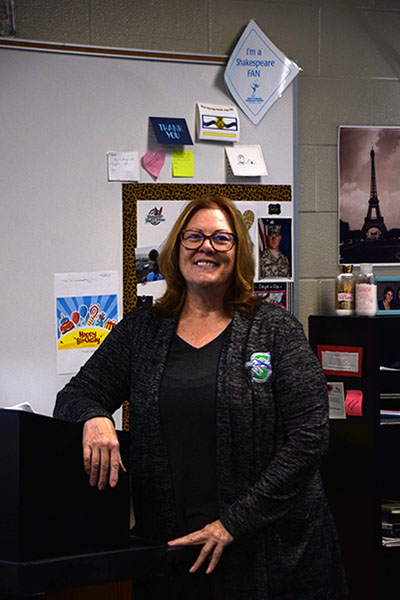 This year's Teacher of the Year at South is English teacher Janis Schuberth. She has been teaching at South for 21 on years now, and this is her first-time being named teacher of the year. Schuberth teaches sophomore English and world literature and composition, as well as creative writing I and II.
"Actually, I took a detour and worked at the college level, then stayed home with my children before I began teaching at BSSHS. The experiences I had through volunteer work and my own children showed me how much I enjoyed working with students. Also, I love reading books and writing."
Schuberth talks about how she became a teacher. She didn't always teach here at south. She first started out subbing for other teachers, then took a liking to the staff and students, so decided to stay.
"I feel very humbled. We have good staff, and it has been a very hard year. I think every teacher this year should be teacher of the year and everyone deserves an award for handling school this past fall and learning new technology," Schuberth said when asked about how she felt about being named Teacher of the Year.
Schuberth is a sponsor of various clubs and runs South's Louder Than a Bomb poetry and the Literary magazine. Due to the circumstances of this year, she was not sure if Louder Than a Bomb would proceed this year but, they were able to do a virtual season this year.
"I didn't know if we were going to be able to have the club this year so I didn't do tryouts but I had five people that said they wanted to do it, so we ended up meeting three or four times. We were able to video tape their performances and send them in," Schuberth said.
Senior Ashley Appleberry has been one of Schuberth's students.
"I have been a member of LTAB since last year and I've gotten my writing published in the literary magazine these past two years as well. I've loved every moment I've been on the poetry team because of the friends I made and the fun I had writing and performing my own poetry with others. It's a great experience to be able to share your poems and receive constructive feedback from others who are just as passionate about your writing as you are," Appleberry said.
This year Schuberth is also doing the literary magazine yet again.
"Well, with a few snow days and less time in class, it's been a challenge to try to get it done but we're getting there. We actually just started doing layouts and notifying all of our winners," Schuberth says.
The literary magazine takes talented students from Blue Springs South and their artwork and/or writings and makes a book out of them. by the end of the year, once the magazine is done, students and parents will be able to buy a copy of the magazine and read all the stories and look at all the artworks.
One of Schuberth's close friends at South, English teacher Kristi Williams, had a few things to say about Schuberth winning.
"I think she deserves it as much as anybody. She does so much for the kids around here, for the other teachers, for our department, for me personally. She has that attitude toward everyone. If somebody needs something, she is always willing to help regardless of what kind of effect it'll have on her whether it is a student, a teacher. It doesn't matter who you are, you can always go to Mrs. Schuberth and she's going to help you in any way she can," Williams says.
The two have known each other since Williams first started teaching at South 17 years ago. Their classrooms are right next to each other, leading to an almost immediate friendship.
In Schuberth's many years of teaching here, she has made many fun memories with the other teachers and students here at South.
"Too many to count! Of course, I work besides Coach Williams, so life at the end of our hall usually brings a lot of laughter. My students bring me a lot of joy. I love the energy in a high school setting—so many events and activities to be involved through the years," she says.