South hosts its first Open Mic night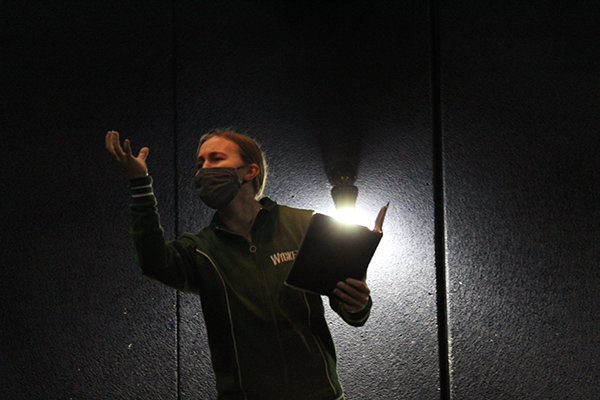 By Mira Asllani
Reporter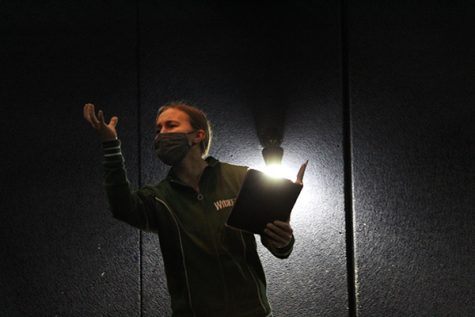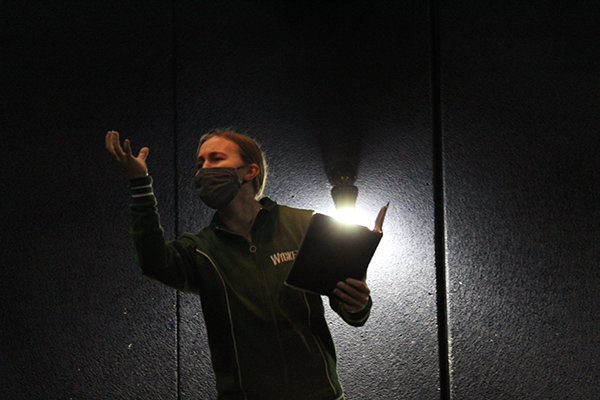 "Poetry is the clear expression of mixed feelings," a quote by W.H. Auden, stands very true and explains the way a lot of writers feel. 
One such poetry writer is South junior Kendall Morris, who read an original work titled "The Beast." The poem, written about sadness, grief and the battles of overcoming it, performed under the dim lights of the black box theatre, and in front of a moderately small audience during an open mic night at South, created a very intimate and fascinatingly melancholic presence, that engrossed everyone.
Open Mic Night was hosted at Blue Springs South, on January 12, for the first time in the school's history. This event was a collaboration between two clubs: POC & Allies and Poetic Justice; two frequently attended school clubs. It was open for anyone who wanted to share or listen to a poem, song, or any artistic performance of the sorts. Seniors Naia Montgomery and Nate Green hosted, and the event received a lot of positive feedback from everyone who attended it.  
 "At the beginning of this year when we had started up things, Mrs. Schuberth gave us the idea to host an Open Mic Night. I was chosen to be one of the MCs, and me and Naia decided that we were going to have fun with it, and let people do what they wanted. We got to see people and extend the love to everybody," Green said about how the idea started. 
If wondering about what it means, the concept of it is exactly as it sounds. Not having a definitive structure, it allowed a lot of freedom and spontaneous courage from the audience, while also simultaneously serving as an outlet for a lot of art, emotions, and a plethora of acceptance from the audience. 
Green opened the night with a poem called "When I see Women." He dedicated it to his many female role models, a few of whom he mentions being his grandmother, and artists who continue working and expressing themselves in such a manner as to not allow external voices influence their actions. 
"I love poetry, I grew up with it. Poetic Justice was a club I really wanted to join and really wanted to be in," he said.
South students freed their creativity in this Open Mic Night, and there were many other students who also decided to perform, a few of which opted for poetry as well; most of which, were original works of the event's attenders. 
 Apart from the previously mentioned poems, "Dear Beyonce" by Aaliyah Jackson and "I'd rather Break my Wrist than say I Love You Again" by Green were performed. What was most striking about them, as it usually happens with poetry, is that everyone relates to them in a different spectrum, and they're often left open for interpretation. 
Montgomery's original art however, which was titled "Who I Am," made clear that between the lines of the poem, the struggles of being accepted by herself and the others were shown. 
Although everyone's work was captivating, the MCs of the night didn't fail to keep the audience entertained and very involved by asking questions, one of which caused a slight debate. So, what color is the Math notebook? (Blue is obviously the right answer.)
Apart from performance poetry, the night was filled with songs, too. Classics such as "Diamonds" and "Fight for Me" were sung by Montgomery and Diane Collins, creating a fun, and enhancing experience for the listeners. 
Two other performances were conducted by a few forensics students. One of the topics was about online dating, performed by students Morris and Collins, while the other was about sexual abuse against females in prisons and wasperformed by junior Charis Morasch.