Winter Guard makes its way to the world championships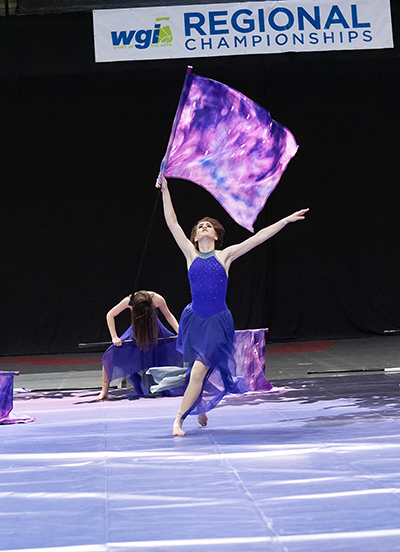 By Kaihli Mitts
Editor-In-Chief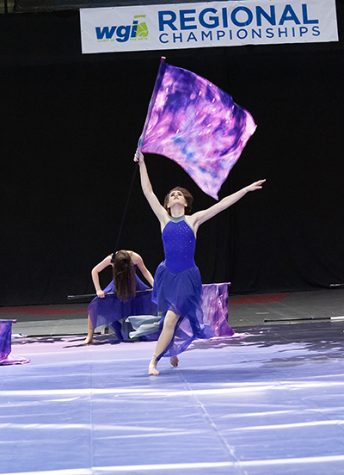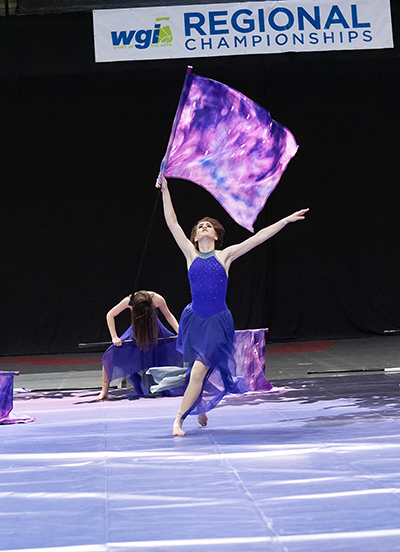 Loud music resonates through the arena while bright colored fabric flies. Artificial weapons spin in the air half a dozen times and are caught sharply by the dancer standing below them. Tension and emotion can be felt a mile away through the streets surrounding the UD Arena.
The Blue Springs South Varsity Winter Guard took an eight-hour drive down to Dayton, Ohio, to compete in the WGI (Winter Guard International) World Championships this April. The twelve individuals passed the preliminary round of competition with a score of 91.370, first place, and a ticket to move forward to semi-finals. The group scored 93.400 in semi-finals and earned a spot to perform in finals, where they earned an eighth-place rating out of 94 winter guard teams in their classification.
"Our goal was top ten. It was actually really cool to be able to achieve that and do even better," says Jason Paris, a senior at South.
The show titled "The Light, It Follows Me," takes us on a journey through a gentle song with accents of purples and blues on the floor, equipment, props, and even performers themselves. Each dancer was purposeful with their moves and placements with pointed feet and lifted posture while they let the energy of the music and each other move them through the show, just as they had practiced.
"We had so many practices and runs we had to do throughout the season to prepare for [Dayton]. Once you got there and [saw] what the arena was like, it was just like any other competition. You just have to go out there and know what the coaches gave to you. Then you have to perform it even better and leave it all out on the floor," says Makayla Bennett, a junior on the varsity team.
World championships may have been similar in some ways to some local competitions the Winter Guard has competed in, but, in other ways, the team didn't quite know what to expect when walking onto the floor for the first time.
"Here in our local circuit, we are one of the best teams. But on a national scale, we are just like anyone else. It was scary to be in front of people you know are judging you about every single thing and aren't [in] awe of everything," says Paris.
Makayla Bennett nods vigorously before finishing the thought of her peer.
"Yeah, you have more people who know what they're doing," Bennett continues. "There were times when we did something, and nobody clapped. We couldn't tell if they were amazed or if it was just like every other day for them."
This was the first time in history that the Jaguars performed at the WGI event. Though this would have been the second time the guard competed on a national level if the pandemic didn't stop the 2020 season so soon. With that in mind came hard work, and a bittersweet feeling for the current varsity team in order to make alums proud.
"Talking to two of the three seniors that graduated that year, they supported us and wanted us to do good. There wasn't any sort of resentment from any of them, and it made me happy to know that they still supported us," says Paris. "It was a really cool experience to do the same thing they would have and [making] them proud while doing so."
Though it may not have been as hard as making the best out of a successful season during the COVID outbreak a few years prior, the team had a few of their own roadblocks to get through during the season. Toward the beginning of their trip to Ohio, eleven members of the team had to keep chugging their way forward while leaving one behind less than 24 hours prior to their debut performance in the University of Dayton Arena. This created a difficult experience for her, and a worrisome one for the rest of the team.
"On the way to [Ohio] I got food poisoning and had to spend a night in the hospital," Bennett says. "The hardest part of the season was going up to the venue after [I was released] and performing for prelims. It was so hard because I had never been so sick before in my life. I just had to go out there and do it. I had to put everything into that performance, and it ended up being one of my best runs of the season."
Nonetheless, Bennett showed that perseverance is key when it comes to a team, and underclassmen will continue to look up to her and the other upperclassmen for proving such a thing to them.
Being exceptional performers at World Championships is exciting for everyone involved. The coaches, the varsity team, classmates, peers, and families. However, it may even add more pressure onto future teams following in their footsteps in the years to come.
"Going forward, there will be a lot more pressure and competition for new people on the team to get better, faster. It will influence the middle school program and lead to more practices so that we can keep getting better while working on technique and performance."
Though looked past for their hard work, countless hours, and great success, the Winter Guard may soon get the recognition they deserve moving through the next few years as they keep up the great work.
"This team set the highest standard we have ever had for the guard team here at South," says Paris. "By the time I graduate college, I have a feeling [the team] will have moved up a class. That would be really cool. They deserve it, and they can handle it."