'You can dance': South's theater department does the musical 'Mamma Mia!'
By Olivia Svoboda
Editor-in-Chief
Editor's Note: This story has been corrected to indicate that tickets can be bought at the door as well as online.
South's theater department has been preparing for the production of the musical "Mamma Mia!"
Timothy Haynes is South's theatre teacher. "Mamma Mia!" is the biggest production he's done in terms of set and cast since he began teaching at South.
"Everything just sort of seems bigger; kind of reminds me of pre-COVID, sort of how big we want to go with everything," Haynes said.
"Mamma Mia!" is a musical that was written around the songs of 1970s Swedish band ABBA. It follows the leads Donna and Sophie Sheridan, who are mother and daughter respectively. Sophie invites three men to her upcoming wedding in hope of meeting her real father, while Donna prepares for the wedding with two of her friends.
Donna is played by senior Jaden Terry and Sophie is played by senior Riley Berridge.
"[Donna]'s a single mom struggling to accept that her daughter grew up, and she's also dealing with all the complications of her love life that have come to fruition after 21 years. She's just emotionally overwhelmed but growing into herself, even as an adult," Terry said.
Berridge compared the differences in plot and tone of "Mamma Mia!" to last school year's musical, "Matilda."
"'Mamma Mia!' is way different than 'Matilda' in the sense that 'Matilda' we were all playing little kids, but now in 'Mamma Mia!' we're all grown up. We're playing actual adults with actual adult problems. It's a more mature storyline," Berridge said.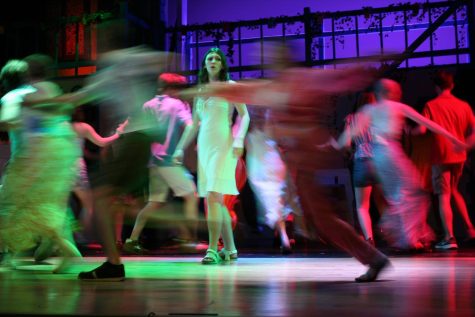 Despite the heavier story, Haynes says audience members should expect to have a lot of fun.
"Yeah, it's a party. We have lights going off, we have disco balls being spun. It's just a really big party and we hope people enjoy it," Haynes said.
The cast will be having just as much fun on stage as they finally get to perform their long-awaited performance.
"It's a lot of hard work, and there's a lot of blood, sweat, and tears that go into it, but it's also a lot of fun. When you're on the stage, and you just finished a number, and everyone knows you did well, and you go off the stage, and you're high fiving everybody; there's nothing that can compare to that feeling," Berridge said.
Besides having a lead role, Berridge is also the student choreographer.
"That's been a lot of fun to be able to help and teach all the dances and make new ones up, that's been a lot of fun. I really, really love all the dances that we have," Berridge said.
Productions like "Mamma Mia!" bring many students together.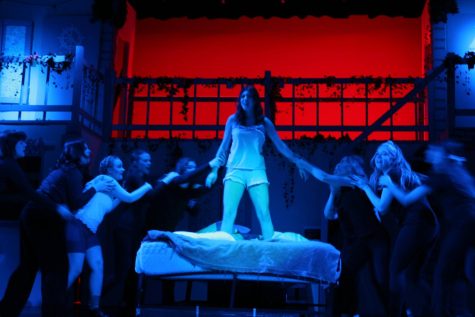 "There's so much camaraderie and talent within the entire cast. It's amazing to see everyone on stage just so invested. I think that it's such a popular musical that it brought so many people; everyone's just happy to be here," Terry said.
It can be challenging for teenagers to play adults who are well into their lives, though.
"It's really hard to capture that maturity and all of the life experience [Donna] has, so I've had a lot of talks with my mom about the role and how she views it. It's nice to have someone who really relates to the character so close to you that you can talk with," Terry said.
Besides the difficulties the cast faced, the crew of "Mamma Mia!" also had to overcome some obstacles.
"The set is insane. The biggest challenge is building something that you would usually take easily two months to make in one month, and then asking that of the tech crew and asking that of Mr. Frentrop to make that happen with minimal complaints," Haynes said.
Jon Frentrop is a retired South teacher who continues to work behind the scenes for theatre productions.
Haynes and the two leads gave their favorite songs. Haynes likes the final song, "Waterloo" because the entire cast is on stage for it. Terry likes "Thank You for the Music" because she says it feels like a lullaby. Berridge likes the songs "Does Your Mother Know" and "Lay All Your Love on Me."
Audience members can see "Mamma Mia!" on Thursday and Friday at 7 p.m., or on Saturday at 1 p.m. or 7 p.m. in the PAC. Tickets are available at search.seatyourself.biz/webstore/accounts/bsshs/buy-tix. Tickets will also be on sale at the door.
Haynes is proud of the cast and their ability to adapt to the difficulty and uniqueness of "Mamma Mia!"
"I'm most proud of the students. They worked really hard to make this come alive," Haynes said.