Touch of Silver competes at Liberty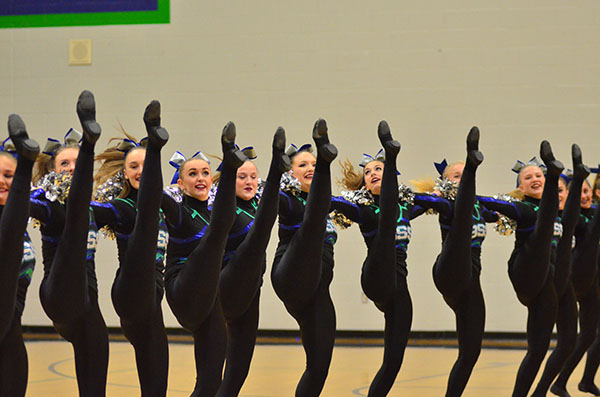 Caeden Smithpeter, Reporter
December 16, 2016
Touch of Silver Dance Team worked hard this past weekend and it paid off.
The team competed at Liberty High School. The team is lead by Coach Shelli Ray and made up of 18 girls.
They performed three dances in three different categories: Hip-Hop, Jazz, and Mix. They placed first in Mix, second in Hip-Hop, and fourth in Jazz. Ariannah Meyers, senior and team co-captain, voiced her satisfaction over Touch of Silver's performance over the weekend.
"I am really proud of our team, but there is always room for improvement," Meyers said.
Meyers is accompanied at the co-captain position by fellow senior Brooke Eddins, who shared in the excitement over the past weekend.
"I am very proud of what we accomplished and where we placed. We did our very best," Eddins said.
Senior Megan Bishop performed a solo and placed first in the senior category out of 23 girls. Sophomores Claire Tindall and Josie Woodward both performed solos. Tindall placed sixth and Woodward placed seventh out of 23 girls. Woodward explained the difficulty involved in competing in this category.
"This was my first time performing a solo for a dance team competition. You have to be a lot stronger and confident for the moves that you're executing, and make sure you hit all of your tricks and have really good technique," Woodward said.
Touch of Silver also has a pair of sisters on the team this year, junior Sofia Bennett and freshman Alena Bennett. Alena Bennett explained her background of dancing alongside her older sister.
"I've been dancing with my older sister, Sofia, ever since I started dancing, and being on the high school dance team to support our team makes it a lot more fun and brings us closer together," Alena Bennett said.
Junior Michaelyn Horsch described her favorite dances to perform over the weekend.
"Mix was really fun to do in front of a crowd, but I really liked jazz because it showcased what us dancers really do at our studios," Horsch said.
Junior Allie Widick shared some of Horsch's views.
"I loved performing mix because it's really high energy and our seniors made up the dance, so it's really cool getting to perform a dance that our seniors choregraphed," Widick said.
With her high school dance career beginning to come to a close, Eddins explained how she will remember her four years on Touch of Silver.
"I'm definitely going to miss the girls. You get so close with everyone and make memories you'll never forget. Also, performing on our gym floor in front of the students will be something that I'll miss as well," Brooke Eddins said.
Touch of Silver Dance Team has two more competitions left for the year and then they head to St. Louis for Dance Team State.