Tori Findley honored with Runner of the Year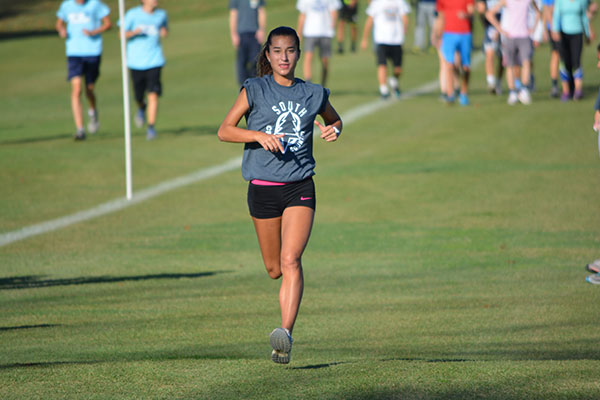 Hang on for a minute...we're trying to find some more stories you might like.
After dominating the cross country circuit in her junior season, Tori Findley recently named Gatorade Missouri Runner of the Year.
Findley, who lettered in cross country, basketball, soccer and track her sophomore year, is focusing on running her junior year and believes it will help her.
"It was hard to give up basketball and soccer," Findley said. "But if I want reach my full potential as a runner I need to focus the majority of my energy on running. I hope to get my mileage up and times down by next season so I can continue to compete at my highest level."
The Gatorade Runner of the Year is awarded based on a number of criteria including grades, community involvement, and of course, athletics. Sports aside, Findley is involved in A+ tutoring, conformation classes at her church and Harvesters where she and others pack meals for those in need. Findley is also a student ambassador at South.
South has been home to two students to win the Gatorade Runner of the Year award. Findley is joined by former Jaguar runner Samantha Nightingale, who went on to run at Oklahoma State University following her highly decorated high school career. Cross country coach Ryan Unruh believes although the girls' personalities are very different, they both possess qualities essential for success.
"It takes more than talent to be a great runner," Unruh said. "Sam and Tori have a drive unmatched by most that pushes them to be the best they can be. Many girls want to be the best runner at their school, or in their city, or even in their region. Sam and Tori want to be the best runners in the country and it shows in the way they work on a daily basis."
When asked why he believes Tori is able to succeed at such a high level Unruh said that Findley refuses to be outworked.
"Everything she has accomplished has come as a part time runner," Unruh said. "She balanced four sports her first two years of high school at the varsity level simultaneously with keeping good grades and staying involved in school. This year she is going to focus on running, and I am excited to see the things she will accomplish."
After teaching Findley in history class her freshman year, Boys JV basketball coach Josh Smith gained a lot of respect for her. Along with academic records and cross country times, Findley submitted a letter of recommendation in which Smith praised her character and work ethic. He was quoted saying that if his children could grow up and be like Tori, he would be honored. This goes to show the impact that she has had on everyone around her.
As Findley wraps up her junior year, she plans to run track. She will compete in long distance events and work toward getting her cross country times down going into her senior season. Following high school, Findley plans to run in college and knows the competition will strengthen.
"College will be tough, but I am ready to take on any challenge," Findley said. "I love being pushed by the people around me and I know that will be the case in college. My high school teammates are always there for me and I don't think I could be where I am without their support."