Senior boys continue a tradition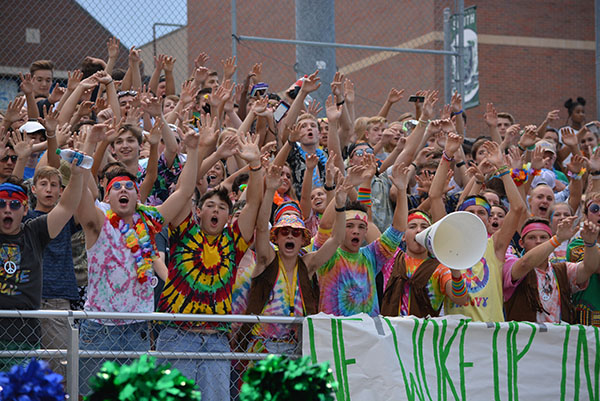 Hang on for a minute...we're trying to find some more stories you might like.
Superfans are a South tradition where senior boys have the chance to cheer on their classmates every game.
Every year the Superfans have a specific theme that they dress up as. The theme for Superfans this year is hippies, so they wear things like tie dye and headbands and jean shorts.
The Superfans get to stand in the front row and lead the chants for the student section. For most games they make signs to hang over the fence.
The Superfans also make appearances at other sporting events in addition to football games. They are lead by captain Patterson Fallis and co-captain Dan Hollis. The captains were chose by the captains from last years Superfans, it's like a title that has been passed down to them.
Fallis loves being able to cheer on his school and be involved.
"I have been waiting all 3 years for the chance to be a Superfan, it is so fun to be at every game calling out chants and leading our student section,"Fallis said.
Senior DJ Hyde's favorite aspect of the game is being able to watch his classmates participate in an excited manner.
"My favorite part about being a superfan is cheering on my friends and having an excuse to be overly hype all of the time," Hyde said.
Hyde is not the only one who enjoys watching his friends play. Senior Sam Siron also likes getting to watch his classmates.
"I love getting to support my best friends on the field," Siron said.
Senior Joseph George is excited for the school year cheering on the South teams.
"I am so pumped to be at the football game against Blue Springs, I hope we can help them play a good game.  I'm also really looking forward to being in the stands during basketball season," George said.
Hollis is looking forward to more games and more events.
"I really have a lot of fun being a superfan with all of my friends and getting to go to every single game. I like being a part of something like a team because we all work together to be better than the Superfans from the past years and it is a great way to make a lot of memories during my senior year," Hollis said.