Senior girls finish first and second at State
Danielle Hotalling and Tori Findley hold the fourth-place trophy after the State meet. Photo by Ryan Unruh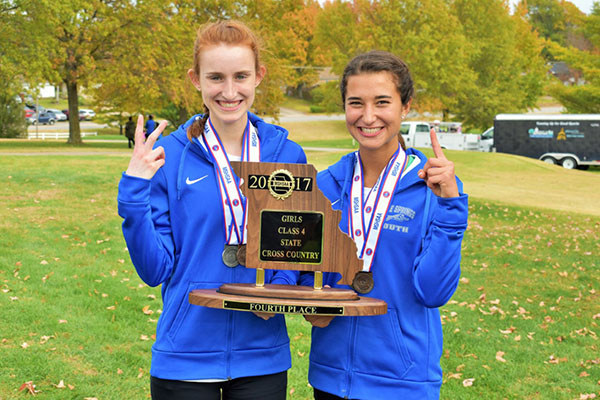 Hang on for a minute...we're trying to find some more stories you might like.
The girls cross-country team finished its season in one of the best ways possible. Seniors Tori Findley and Danielle Hotalling finished first and second respectively.
Head coach Ryan Unruh talked about how Findley and Hotalling have improved since their freshman year.
"They've both improved significantly, but in different ways. Tori was an elite runner from the start, but had to make a big commitment to reach the State Championship level. Danielle finished 72nd at State as a freshman, so she had a longer way to go. They both were difficult jumps," Unruh said.
Both girls stayed relatively healthy throughout their careers here at South which helped them greatly while training and preparing for the season.Unruh talked about what helped the girls succeed the most at state.
"Good, consistent training is the most important. They don't miss practices and they have stayed healthy their entire career. They trust our training plan and their commitment allows us to execute it and it showed in the meet," Unruh said.
The State Championship course for cross country ends with a significant hill in the last mile. Some competitors have been seen crawling and walking to the finish because of how brutal the last hill is and shows how difficult cross country is. Hotalling talked about how she felt coming up the last hill.
"Coming up that final hill I knew I had to give it everything I had left since it was my last race. All I wanted was to give my team our team our best shot at getting on the podium and end my career on a good note. It was bittersweet coming into that last stretch for the last time, but I was determined to finish my race off the best I could," Hotalling said.
Findley talked about how it felt to run with Hotalling all four years and how she felt after crossing the finish line.
"Danielle has just shown me that if you work hard year after year, the results will come. She has also shown me to not focus on the outcome but more on the process. I was really overwhelmed with joy as I crossed the finish line, and then turning around to see Danielle made it so much better," Findley said.
Hotalling and Findley talked about their career at South and what kind of legacy they left.
"My cross country career at South was the best experience of my life. I am so fortunate to have had Coach Unruh and Coach Ewan pushing me these past four years to be the best person and athlete I can be. I think my career ended well and I am so fortunate to have been a part of an amazing team. I can't wait to see how this amazing program will grow knowing I was a part of that process during my career here," Hotalling said.
"I couldn't be more thankful for my four years at South, I am shocked and so happy of the results that have came along with the years. I think I left a legacy here at South, I can't wait to come back and see the next superstar and what they are accomplishing," Findley said.