Girls swim and dive qualifies six to State
Sophomore Raegan Hecker swims the butterfly at a stroke at a home meet on Dec. 12. Hecker was a State Medalist last season on a relay. Photo by Francesca Klosener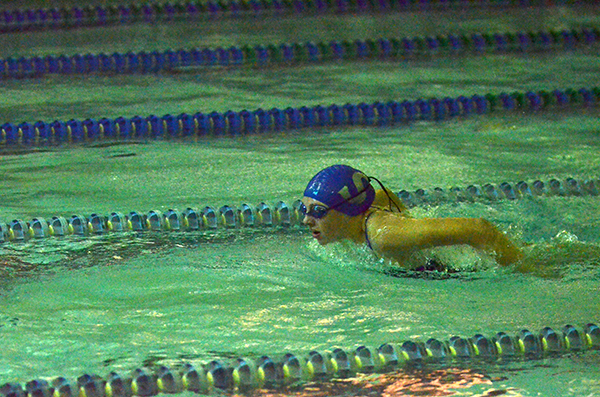 Hang on for a minute...we're trying to find some more stories you might like.
The girls swim and dive team has gotten off to a very strong start and seem to be carrying it into the next part of the season.
At the first meet, seniors Bailey Carter and Delaney Jackson both qualified for the State meet. Senior McKenzie Maclean qualified for State in the 200-meter freestyle race and in the 500-meter relay with fellow swimmers Junior Gabby Fournier and Sophomores Anna Zweerink and Raegan Hecker. Senior Bailey Carter talked about how she thought she performed in the first meet.
"I thought I did pretty well especially for my first meet just because it's a little hard sometimes to get back into the swing of things. Delaney and I made State, following our tradition since sophomore year to make it at the first meet," Carter said.
 Swimming and diving is different than every other high school sport in that the athletes can qualify for State in the first meet of the season. Senior McKenzie MacLean talks about how it felt to qualify for state in the first meet.
"It's always my goal to qualify as early as I can so I don't have to rest for COMO and conference. It's really encouraging to qualify in the first meet. As far as the relays go, we rarely qualify this early in the season but it gives us more time to get the school record," MacLean said.
Off-season training is a key part of every sport and is much needed to perform well during the season. Head girls Swim and Dive coach Errich Oberlander talked about how the team has improved since last season.
"We've gotten stronger physically by lifting more and most of our athletes train on their own and compete on their club teams," Oberlander said.
Carter talked about what her goals for this season are and what her favorite part of diving is.
"My goals for this season are to get a reverse one and a half pike, and to become less scared of doing new dives. I know I will be able to accomplish my goals because of my teammates, all of them encourage me and push me to be better, especially Delaney. My favorite part about diving is the environment. It's a fun place to be and the people are definitely the reason I keep coming back every year. I also love my coach Missy because she has always believed in me and she pushes me to be the best athlete I can be," Carter said.
MacLean talked about how her offseason training has helped her this season so far and how she has improved since last season.
"Off season swimming is mostly distance training, and it really helps to get in a couple months of distance training before the season starts which is mostly sprinting. If I don't swim year-round I would have a much harder time qualifying in the 500 and 200. Last season was definitely an off year for me and since my times at the beginning of this season are faster than my times at the start of last season I'd say I'm off to a much better start this year. Hopefully I can finish my high school swimming career off strong," MacLean said.
The next meet for the girls is at 9 a.m., Saturday, at Gladstone Pool.