Senior displays diverse talents
Jeremiah Hill plays the drums for the pep band during a home basketball game. Photo by Kathy Wilbers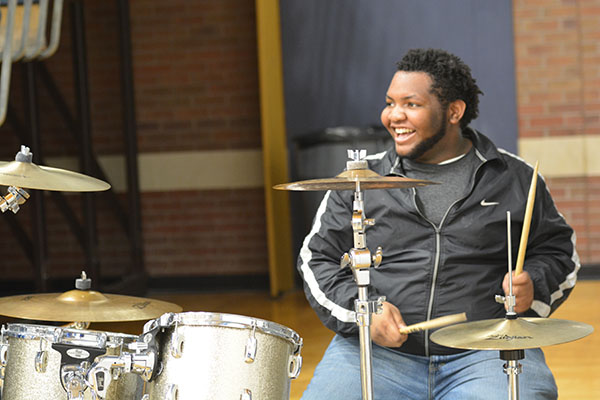 Hang on for a minute...we're trying to find some more stories you might like.
Along with being a member of Jaguar Pride, senior Jeremiah Hill is involved in far more.
Hill participates in various platforms of musical performance. He plays organ and piano at his church, he plays bass trombone in the Wind Symphony, and plays tuba for Jaguar Pride. He also plays the drums and sings. Hill has been playing the drums for as long as he can remember.
"I started playing the drums when I was two years old. My grandfather told me to get on the drums at a recording for Andrea Crouch. I beat a somewhat decent groove and the rest was history," Hill said.
Beating a "a somewhat decent groove" is what Hill enjoys most about drumming. He loves the rush he gets from playing good music.
"My favorite part about drumming is the feeling I get when I'm playing a beat or a song. It happens so effortlessly there are sometimes I shock myself with the things that I play," Hill said.
He compared him playing to an out-of-body experience.
"It feels like there's an angel controlling me cause a lot of the times I can't even explain what I'm doing it just happens," Hill said.
Hill's family has had a huge impact on his musical life. They've been with him since the beginning, proven by the fact that his grandpa first introduced him to the drums at two years old.
"My pops played bass and lead guitar, my grandmother was a singer, my dad plays piano, my mom plays drums, and I feel like I'm just a culmination of all of their talents coming together," Hill said.
He is also the great grandson of Alex Hill who was a professional jazz musician and well known in his time.
"So, I guess you could say music is in my blood," Hill said.
For Hill what's been greater about being about a part of Jaguar Pride than simply the music, are the relationships he's created as a result of it.
"The band has given me the opportunity to form friendships who I have a lot in common with. My best friends are there with me. People I consider family are in that band. Without band I wouldn't have ever found that family," Hill said.
Not only has Hill formed relationships with fellow band members, but also band directors.
"I've found mentors such as Mr. Padget. These men have really showed me a lot and taught me a lot. I am grateful for what they have done for me," Hill said.