Touch of Silver enjoys recent success
Touch of Silver performing their Mix at Lee's Summit North competition. Photo by Caeden Smithpeter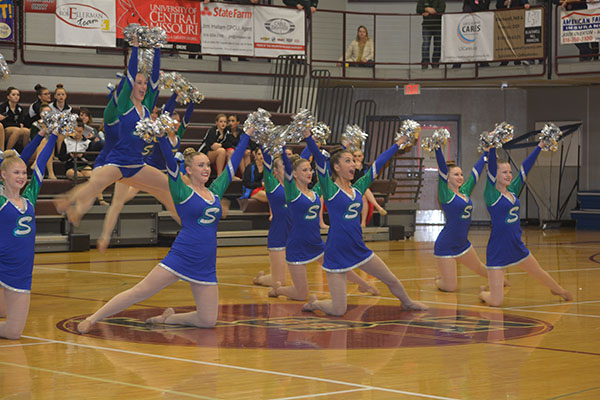 Caeden Smithpeter, Online Editor
January 26, 2018
This past Saturday, the Touch of Silver Dance Team competed at Lee's Summit North High School.
The team competed in three categories: Mix, Hip-Hop, and Precision Dance. The team placed first in Mix and second in Mix and Hip-Hop. The captains are Cameron Krska and Michaelyn Horsch. Krska was very happy with the results.
"I am very proud of all of us and excited to make our dances even better. I am also excited to have Sofia dance with us at State," Krska said.
The team is led by six seniors: Emma Anderson, Sofia Bennett, Michaelyn Horsch, Cameron Krska, Brianna Parker, and Allie Widick.
The team had many freshmen, sophomores, and juniors compete the night before with their own solos and duos.
Freshman Ella Phillips and Sophomore Emma Mayer placed fourth overall in the duo division. Phillips' solo also placed second and Freshman Addi Woodward placed third.
Sophomores Whitney Woods, Emma Mayer, and Maddy Brickhouse all placed in their solo division. Mayer placed second, Woods placed fourth, and Brickhouse placed fifth.
Junior Claire Tindall competed her solo and placed fourteenth.
Sophomore Whitney Woods had a lot of uplifting things to say about the team.
"What makes this team so enjoyable is that we are like a family. We all care about each other and we all are willing to help each other in any way. This past weekend was very eye opening for us all because it truly showed us that our hard work does pay off. Getting that first place in Mix and the two second places in Precision Dance and Hip-Hop helps us realize that we are capable of anything we set our mind to," Woods said.
The Touch of Silver Dance Team will be traveling to Springfield, Missouri next month to compete but their main goal is to perfect their dances for State ,which is next month.