History teacher honored as Teacher of the Year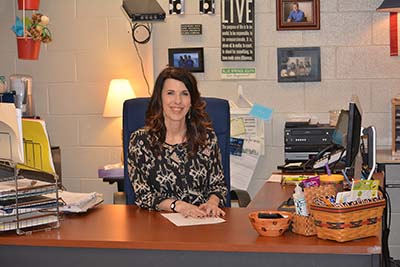 Hang on for a minute...we're trying to find some more stories you might like.
The 2017-18 Blue Springs South Teacher of the Year honor has been awarded to history teacher, Elizabeth Roberts.
Roberts, who teaches AP U.S. History, UMKC Dual-Credit American History, and Psychology, talked about her feelings when she learned of the award.
"It's truly an honor to be named as Teacher of the Year in such a great school because I have the privilege to work among the best of the best and to be recognized among this amazing group of teachers is a great feeling and very flattering," Roberts said.
South Principal Charlie Belt heads the committee to select the award and discussed the process to pick the Teacher of the Year.
"The selection committee is made up of former Teacher of the Year recipients along with myself and we use a three-step process to select the designated teacher. We start with faculty nominations and then the senior class votes on staff to walk with them at graduation. We take the information that we gathered and sit down with the committee to figure out who should be the Teacher of the Year," Belt said.
Junior Courtney Cook is in Roberts' UMKC Dual-Credit American History class and talked about what she likes about her as a teacher and what she enjoys about her overall teaching style.
"I really like Mrs. Roberts because she's extremely open to hearing ideas from students and takes everyone's opinions into considerations. Her teaching style is really informative while still keeping the class engaged and always trying to make sure that her students are having a good time," Cook said.
Roberts goes beyond just teaching and Belt discussed the reasoning behind selecting her as the Teacher of the Year.
"She is a teacher who loves her craft, her content, and her subject. She truly enjoys the everyday fun of being with kids and getting to do what she loves. She goes above and beyond just teaching as she spearheaded the Teacher Leadership Committee to select the Student of the Month award that had previously never been done here. She is a wonderful example of a person who loves what she's doing and you can tell that everyone appreciates her as a colleague and teacher," Belt said.
Roberts will represent South in the district teacher of the year competition.