Student planned auction to help South teacher
Senior Autum Pacas (third from the right) hands Mr. Craig Zwahlen a check with proceeds from a fundraiser that Pacas planned.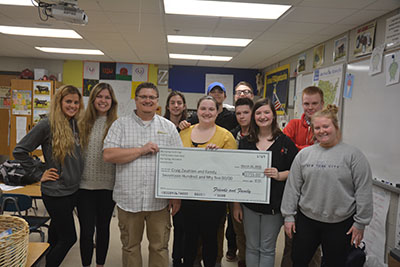 Hang on for a minute...we're trying to find some more stories you might like.
Craig Zwahlen is a very passionate teacher here at South that goes above and beyond to help every student that he gets the chance to meet. In the past few years Mr. Zwahlen has been through some family tragedies and hardships but has managed to keep a smile on his face and push through. Senior Autumn Pacas has been around his amazing spirit for years and decided it was time to plan an event that would help give back to a person who has always put others before himself.
Pacas planned a silent auction and a rummage sale to raise money for Mr. Zwahlen and his family. She started planning this event in early January, going to around 50 different businesses asking for donations. She put together a series of themed baskets full of donated items and gift cards for people to bid on. The rummage sale was similar to a garage sale with donations of slightly used items to be sold to raise money for the Zwahlen family. The event took place on March 24 after nearly three months of planning.
"I was extremely pleased with the outcome of the event. South alone raised $600 and overall around $1,800 was raised for Mr. Zwahlen and his family. It was very exciting to see how many people were as eager as I was to help Mr. Zwahlen. He is an amazing person and teacher and he has helped me through so much, I loved being able to help," Pacas said.
Senior Savannah Kutz was also a helping hand in this event.
"Mr. Zwahlen is an outstanding person who, no matter what the situation or what he has been through he always manages to be positive and selfless. I wanted to help as much as I could and show Mr. Zwahlen how much we care about and apprecaite him," Kutz Said.
This student-ran auction and rummage sale was  successful and many teachers, students, and friends and family of Mr. Zwahlen attended and donated time and money to help him and his family.
"He has helped me get through high school and i just really wanted to do something special for him to help out as much as I possibly could," Pacas said.