Bond measure set to be put to vote in August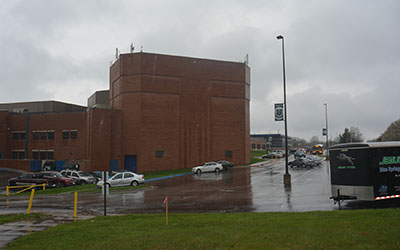 Hang on for a minute...we're trying to find some more stories you might like.
In the coming years there is a possibility that freshmen could be attending Blue Springs South High School, instead of the Freshman Center.
On April 16, the school board passed a measure that will be put on the election ballot in August that will ask the public for their approval of a bond and a tax levy. The more relevant of the two for students is the bond. A bond is where a school district asks for money for construction, upgrades to facilities, and so on. One of the parts of the bond would include building a wing on to Blue Springs South High School so that the school could become freshman-inclusive. Principal Charlie Belt recognizes that there is a long path ahead before this scenario becomes reality.
"There is still a long road to go," he said."The vote of the people still has to happen, and the taxpayers and community support has always been so strong, but that vote still has to happen," Belt said.
If the bond issue is approved, the next step with the freshman move would be to plan the transition, with facilities, staff, organization, curriculum and more. Belt likes the idea of moving freshman to South.
"Well, I am absolutely in favor of it," he said. "I think it has a lot of merit. Planning wise, it's going to take some effort. The Freshman Center is a successful piece at the secondary-level of what we do in Blue Springs, but there are many benefits to consider in having the opportunity of moving the freshman to the high school."
Those benefits include a practicality for South freshmen, the Freshman Center is actually closer to Blue Springs High School than it is to South. So, if this were to go through, the Blue Springs freshmen would continue to attend the Freshman Center as is, and in years following the transition the district would open up to the possibility of adding on to Blue Springs High School as well .
There is no real set time-table on this yet. As the school board is first most concerned with the vote of the people, there is no plan as to when this would actually go through. It is also uncertain how much this upgrade would cost.
Another part of the bond measure includes upgrades to athletic facilities. What South would likely propose be upgraded is the grass soccer field. The upgrade would include turf, which would result in it being used more often, require less maintenance and it would be more versatile. Belt knows the possibilities that could come true if the upgrade goes through.
"It could be a combination of physical education space, practice space, rehearsal space for marching band so they don't have to use the parking lot. And if we're able to do this, a potentially better game field for our soccer program," Belt said, "It could also be used as a community resource. The YMCA uses our facilities for camps and programs that they run for youth sports. It's another way for us to be a great community resource for things beyond South."
The current  bond proposal that the school board is proposing includes an upgrade to the district's infrastructure technologically. This would include One-to-One technology. This would provide every student in the district with either a laptop or tablet issued by the district. The district would convert the textbooks to exclusively digital. Belt favors the one-to-one technology over the current Bring Your Own Device policy in the district.
"What we're currently doing with Bring Your Own Device would be greatly enhanced and standardized for students and staff by going one-to-one," Belt said.
The bond measure also includes upgrades to safety and security. This measure would affect every single school in the district from elementary through high school, and extended to district offices. Every facility would get security camera upgrades, and potentially hardening the glass in case of any storm debris or violent attack. Another part of this includes closing up some library space. Belt understands this issue.
"Especially in our elementaries, our libraries are kind of in the middle of the building and open air. There's no door or secure way to lock them down efficiently. So there could potentially be some structural upgrades on those terms," Belt said.
Other things this bond includes is adding classrooms throughout the districts due to overpopulated classrooms on the elementary and middle school front. Some renovations could be in store for Blue Springs High School's library. Additional fine arts space would be added to both high schools.