Jaguar Pride performs in Washington D.C.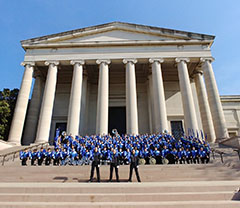 Hang on for a minute...we're trying to find some more stories you might like.
Recently the Jaguar Pride Marching Band traveled to Washington D.C. to march in the Cherry Blossom Parade.
The band spent many hours preparing for the event. While they were in D.C. they not only got to march in the parade but they also got to see all of the memorials that are there along with the Smithsonian Muesem. Senior Jared Collins said this was an eye-opening experience for him.
"It's one thing to read about something in a textbook or see pictures of it on the internet, but to see it in person is something totally different. It really makes you think about how impactful everything was, and it hits you hard," Collins said.
For many, this was their last trip with the band. Senior Taran Canady talks about how this felt.
"It was bittersweet. I've gotten to go on so many adventures with this band and it has provided me with opportunities I wouldn't have been able to have without being in band. The guys on drumline have become like my brothers, and I'm sad that this was the last time I will be able to experience a trip with them," Canady said.
This trip was not only for fun, they also had business to do. Jaguar Pride was the featured band in the Cherry Blossom Parade.
"It was cool to be the featured band because we got to be the very last people in the parade. It was a big deal for our band," Collins said.