Senior girl returns to pitch after injury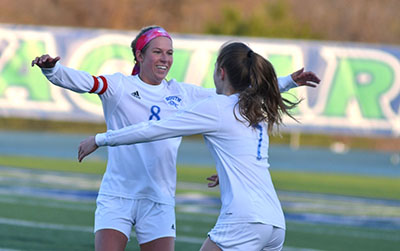 Hang on for a minute...we're trying to find some more stories you might like.
Senior Taylor Gardner is making a big comeback.
Gardner's offseason was overcome by two hip surgeries. Regardless of the trials and tribulations she went through, she kept a positive outlook. Gardner knows that this was difficult, but she overcame and healed by keeping her faith.
"The most difficult part of the recovery was just staying positive and remembering that God had a plan for me," Gardner said, "It feels so amazing to be back just because soccer is such a big part of my life and I missed it so much."
Being back also means being around the team more, and that's always a lot of fun for someone who has been a part of a team for so long. Gardner enjoys being around the team.
"My favorite part about this season has just been spending quality time with the team," Gardner said, "We have a great group of girls who are really fun to be around."
Senior Alyssa Stone seconded the idea that the team is a great group of girls.
"Everyone on the team gets along really well, it's great," Stone said.
Gardner's used the the setback in her soccer career as motivation for this season.
"This season has been extra special for me because of the surgeries, being able to make it back for my senior season has made it that much more important to me," Gardner said.
With senior year, comes big responsibility. Being a senior means being a leader. Gardner is no stranger to this fact.
"Now that I'm a senior it is just that much more important for me to step into a leadership role and lead by example," Gardner said.
The team is viewed as an underdog in the conference, but Gardner is confident in the team's ability.
"I am most looking forward to seeing how far we can get in the postseason, because I we can pull out a few big upset wins," Gardner said.
Gardner plans to attend Kansas State University in the fall and will be a part of their soccer program.