Associate principal heads to the Freshman Center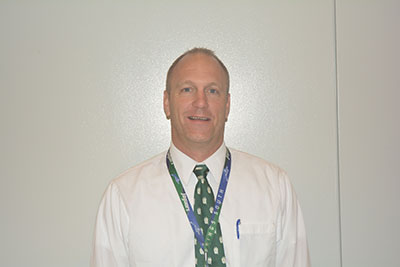 Hang on for a minute...we're trying to find some more stories you might like.
After ten years as an assistant principal and associate principal at Blue Springs South, Doug Mattson is departing to the Blue Springs Freshman Center to become the head principal next year.
Mattson, who first came to the Kansas City area in 1999, talked about what he is excited about in the upcoming year.
"I am definitely looking forward to a new challenge next year. Sometimes in life, we as people get comfortable in the environment that we are familiar with and get used to doing the same thing over and over. Routine, in many instances, can be our biggest enemy and this opportunity to take over as the head of the Freshman Center is exciting because it's a whole new chapter of my career," Mattson said.
Principal Charlie Belt discussed the attributes that make Mattson a great administrator and a good fit for the job at the Freshman Center.
"His energy, his enthusiasm, his positivity, his can-do attitude no matter the circumstances, and his overall dedication to making South a better place are all things that will help him transition well to the Freshman Center. He always makes sure everything is taken care of for our staff, our students, and visitors that come to our school and he's always making sure that our events run smoothly," Belt said.
Connecting with students is one of the many things that senior Kyle Frerking says Mattson excels at.
"He is so much more than just an administrator. He does a great job of being extremely friendly to everyone he meets and I'm sure that sense of friendship will carry over to everyone at the Freshman Center. I think he will make a really good head principal but I'm sure he will be missed here at South too," Frerking said.
Departing Blue Springs South means that Mattson will be leaving a lot behind and he talked about what he will miss the most next year.
"I will definitely miss all the kids that I've built relationships with here. The downfall of the Freshman Center is that you only get to be with the kids for a single year. It seems that everyone at South knows my name, whether it be good or bad. Nonetheless, leaving everyone here from the students to the staff will definitely be the hardest part," Mattson said.
If the bond issue passes on the August ballot to bring the freshman over to South in a few years, Mattson will help ease the transition from the Freshman Center to South. He discussed how his experience at South will aide in the merger.
"After being here for ten years, I know what's going on at South and want to make it similar at the Freshman Center. For example, if South is having a spirit week, I want our kids to be able to participate in the same spirit days as those at the high school. I want to have an open communication system between the two schools and we need to operate as a team and be unified," Mattson said.