Star sophomore learns from seniors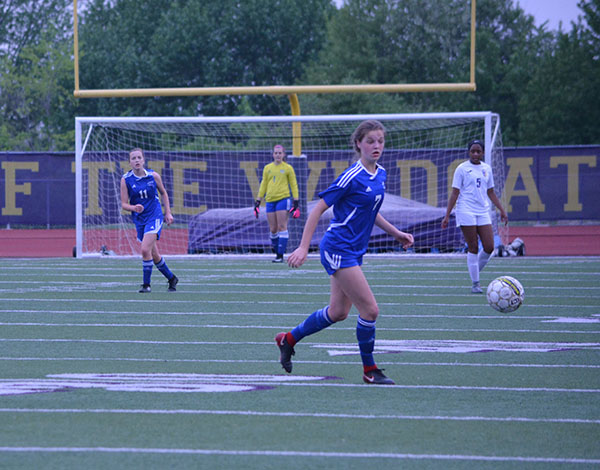 Hang on for a minute...we're trying to find some more stories you might like.
Sophomore Brie Severns is headed for big things on the pitch.
Forward and attacking mid Severns has already verbally committed to the University of Kansas to play soccer. Severns is excited about heading to Lawrence.
"It was a compacted process. I like how busy it is. They make me feel like it's a home. Plus, it's close to home," Severns said.
She's not as excited about her solo accomplishments as much as being around her team.
"My favorite part has been getting to know the freshmen, and becoming close to the seniors. Overall just being with the team," Severns said.
She also has role models on the team. The seniors have been mentors to her.
"I look up to Taylor (Gardner,) Kaylee (Connors,) and mostly all of the seniors. They're all very good at being there for the underclassmen," Severns said.
Severns doesn't only look up to them on the soccer field.
"They're great human beings, as well as soccer players, I want to be just like them," Severns said.
Senior Taylor Gardner likes Severns game and her attitude.
"Brie has made an impact as a goal scorer and a leader on the field, even as a sophomore," Gardner said.
Gardner enjoys sharing the field with someone like Severns.
"Brie is a key player on our team who is always moving and making things happen. Her work rate and passion make her extremely dangerous," Gardner said, "She brings an energy to the team that is like no other; you can always count on her to get everyone going."
Some would even say that Gardner is like a mother to the sophomore.
"We often joke that Brie is my daughter, and I couldn't be more proud to call her that. She is such a caring person who you can always count on to bring a smile to you face. On and off the field she is amazing," Gardner said.
Severns is pleased with how the season has gone thus far.
"A lot of teams knew that we lost a lot of seniors this last year, so they kind of underestimated us. But, we've come out and played the best we can," Severns said.