Video game and anime club draws a crowd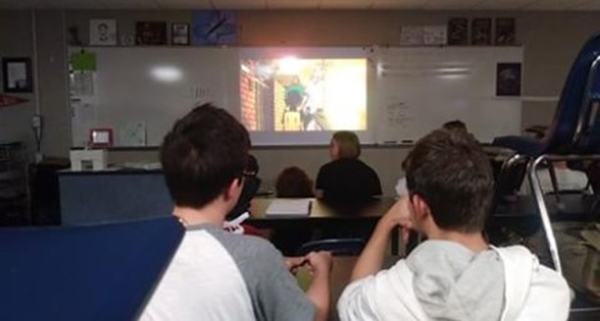 Hang on for a minute...we're trying to find some more stories you might like.
By Alexis Renfrow
Reporter
You may have seen flyers hanging around the school for a club called "Video Game and Anime Club." That's a pretty broad name and leaves a few questions unanswered.
What do they really do? Sure, it says "video game and anime" right in the title, but that isn't very specific. To start, it all has to be school appropriate (of course). The games they play are all multiplayer – including everyone they can. Some of the more popular titles include "Super Smash Bros." and "Mario Kart." An anime they have been watching recently is "My Hero Academia," a popu
lar anime that many people have fallen in love with. This year, the anime side of the club has become much more prominent than before, making it equal to the gaming side and ensuring that there isn't any tilt towards either side of the club.
Who runs "Video Game and Anime Club?" The president this year is junior Jack Main, and the Vice President is junior Nick Padilla. They both run the gaming side of the club. For the anime side, senior Brandy Smith is in charge. The club has been around for about four years, and each of the three leaders have been around for most of that time. They've been advertising this year, and it's worked. The club meetings used to be somewhere around 10-15 people showing up, but now it's 20 on a slow day. The club has grown quite a bit already this year, and it may be worth keeping an eye on.
What is so great about the "Video Game and Anime Club" that has kept people going back for years? For some, it's a love for gaming. Main loves gaming and wants to share that passion with others. The club helps him relax after a long day and meet new people that he can share his interests with. On the other end, Smith enjoys the environment more than the activities. To her, the club is like a place away from home where she belongs and can feel safe. It's a save haven where people share similar interests. While Padilla loves playing games with his friends and making new ones, he also comes to enjoy a movie or few episodes of an anime.
If you enjoy destroying your friends in your favorite multiplayer game or settling in and watching your favorite anime with your friends, then this club might be something worth looking in to. There's no sign up – all you have to do is show up. The activities alternate each week between video games and anime, so if you only enjoy one or the other, you don't have to worry about wasting any time coming for the wrong side.
If this sounds like something you'd like to be a part of, the club meets in Mr. Fritts room every Tuesday after school until 3:30.