Katie Sparks helps lead Jaguars volleyball team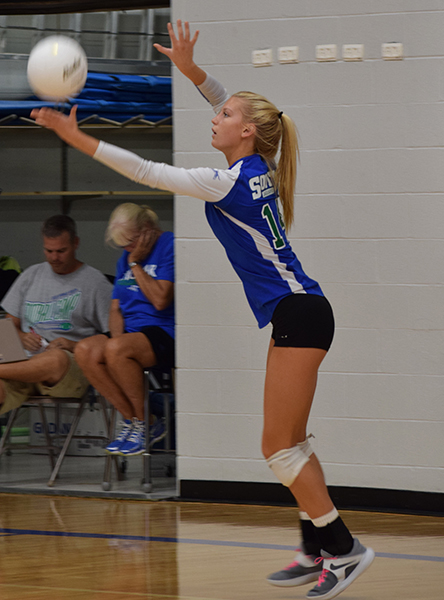 By Emily Wilson
Reporter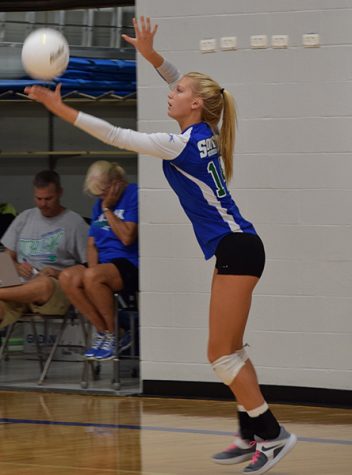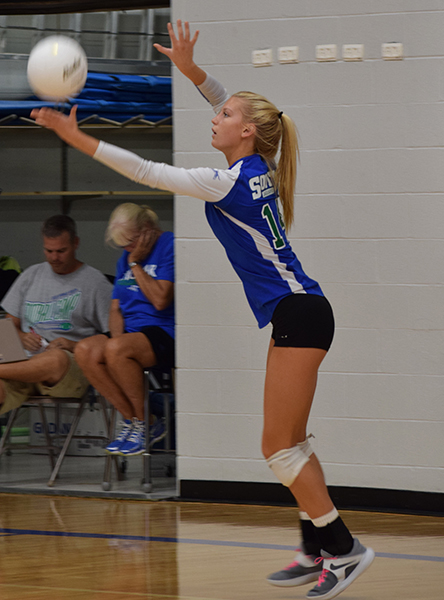 Bump. Set. Sparks. Katie Sparks is one of nine seniors on the Blue Springs South Volleyball team. She is a star athlete and an inspiration to her fellow Jaguars every day. She has a drive that sets her apart and a love for the game that you can see when you watch her on the court.
Varsity coach, Mallory Perry describes Sparks as a leader.
"Katie always gives 110%. She leads our team in many different ways. From her aggressive defense in the back row, to her play-making attacks in the front row, to her serving runs, Katie is a class act. She strives to be better than the previous day, never settles, and puts the team first".
She is very enthusiastic and hopeful for her senior season.
"Being a senior has really changed my mind set while playing, knowing that it's my last year makes me set better goals for myself each game."
Sparks has been playing as a Jag since her freshman year, including 2015 when the varsity team made it to sectionals. It was one of her favorite seasons. Sparks says, "Although we had a sad loss, that year was still a long, fun ride."
Sparks has a very positive outlook for this season.
"Our season has started off to a great start, placing third in a tournament we traveled to and having a 15-2 record against our non-conference games. I am very excited and confident with the upcoming season and hope to still see everyone come November!" The varsity team is currently 3-0 in conference.
Sparks is a major asset to the team this season. During their game against Park Hill South, Sparks played aggressively, and she ended the night with 4 aces. Her serves at 15-8 led to a 10-0 run to win the first set of the game. This was not uncommon as Katie always puts her best foot forward and helps lead her team during every opportunity she gets.
Sparks says that volleyball has affected her in many ways, helping her grow as a person and a player.
"It has allowed me to overcome my own mistakes and build from them." Sparks has been playing volleyball since she was 9 years old. She started playing because her parents wanted her to branch out and she ended up loving it. She loves volleyball because she loves the feeling she gets when she plays and because of her love for her team. Sparks is very bold and very bright. She has great things ahead of her.
Although Sparks has not decided what she will be doing after high school, she is keeping her options open and is staying focused on school. She currently works at the YMCA and is a part of the pre-allied Summit Tech program.
When asked how she would describe Sparks, senior and teammate to Sparks, Cori Brungardt says, "Katie is one of the most genuine and selfless people I know. She one of those people you only hear good things about! She is just a good person to everyone." Teachers, coaches, and students alike say the Sparks embodies what it means to be a Jaguar on and off the court. We thank Katie for all she does and has already done to impact South.