South golfer swings into state tournament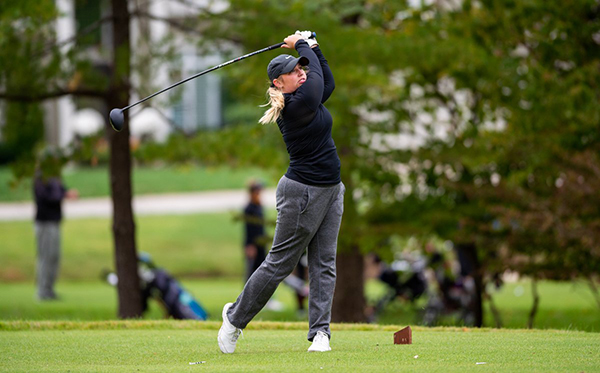 By Eli Wilkinson
Reporter    
South senior Ayden Sackewitz, a veteran player on South's varsity girls golf team recently competed in the State MSHAA State Competition for golf, shooting an overall score of 187, landing her at 58thout of 90 golfers competing at the tournament.
Sackewitz originally started off playing volleyball for South, but soon decided that volleyball may not have been the best fit, ultimately deciding her sophomore year that golf may be the sport for her.
"I have been playing golf since I was a sophomore in high school," She said. "I used to play volleyball but decided to go another route that would best suit me" Sackewitz said. "My favorite thing would be getting to meet different people at our school and also being able to represent South."
That being said, she also said that golf isn't the easiest sport. There are couple of difficult things that come to mind when she thinks about golf
"The first hardest thing is that it is a mental game where you are accountable for your own performance, and there is no one to pass the blame off on," She said "The other one would be missing a lot of school."
This was Sackewitz's third year competing at sectionals for South, which were held at the Lakewood golf course this year. She hadn't made it to state before, falling just short of the mark each other time, but this time it was different. She shot an overall score of 96. This earned her a trip to the state tournament, making this a special way to end her high school golf career.
"The best tournament ever was sectionals at Lakewood when I made it to State," She said "All my hard work paid off in that moment and I was very emotional" Sackewitz said.
On the day of the state competition, it was a cool 47 degrees. Sackewitz was a little nervous to be playing at state but she didn't let the poor weather stop her. She shot a 98 the first day and an 89 on the second, the 89 being her lowest round she's shot in her career.
"Competing at state the first day was a little nerve racking, but it was a dream come true," She said. "The second day was a lot better as I scored my lowest round. It should be known that the conditions were absolutely terrible and freezing."
Sackewitz had some advice for anyone interested in playing golf.
"Golf in my opinion is one of the hardest sports to play. You're gonna get frustrated with yourself and it will take some time to nail down your swing, but if you continue working hard, you'll be able to achieve great things."
When asked about the golf season Sackewitz said that she thought it went well. "I achieved my goal of making it to state as a senior, no better feeling that that."