Work continues on freshman wing and sports complexes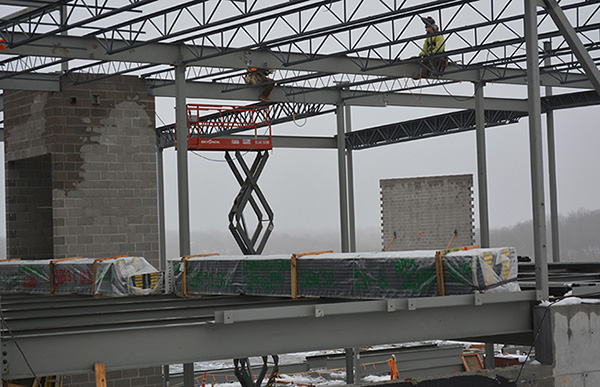 By Emily Wilson
Reporter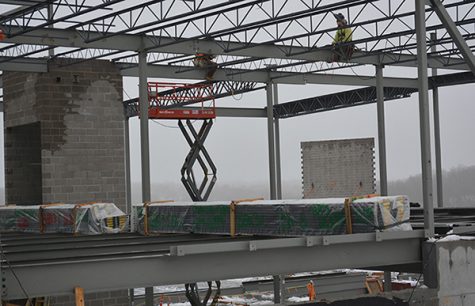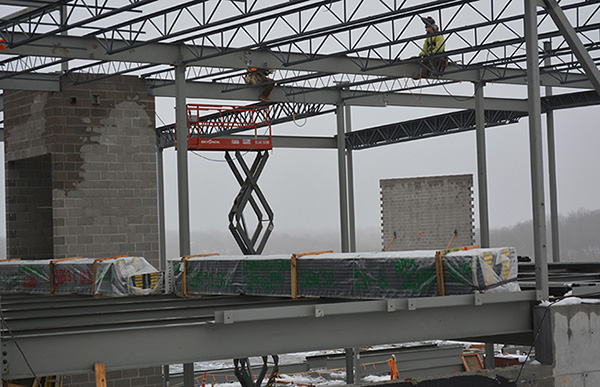 Despite bad weather, work continues on the expansion and sports complexes.
JE Dunn construction supervisor John Packard discussed where the project is and what to expect in the coming months. In the next few months, students will be seeing a lot of rapid changes.
"When we build a schedule, we base it off milestones. A milestone is something we are trying to achieve by a certain date. The milestone we are working on right now is to get the structure built, then get the roof on, then the sides (even if it's temporary measures)," Packard said.  "We want to get the heating and cooling inside the building, and we want to start the inside. So, in the next month to month in a half you are going to start seeing the change where we bring in people to start doing work in on the inside."
Over the course of the next 7 months, South will be getting many new facilities including: a freshman wing, a soccer complex, new turf fields for baseball and softball, additional parking, and a black box theater. The freshman wing will include 24 classrooms, a lot of technology upgrades, new seating areas, a third gym, and a learning stair.   
Packard stressed the importance of meeting milestones.
"Every activity we do we make milestones for and we do overtime so we can reach our milestones," Packard said.
To meet all their milestones on time, JE Dunn is working about 10 hours a day, 6 days a week. Their normal hours are 7 to 3:30. Packard says something unique about the South project is working around students everywhere.  Since student parking surrounds the building, contractors have to coordinate on deliveries and work hours.
"Our delivery hours are from eight to two and three to five so that you guys have time and space to get to school. Besides that, it's a great team with a great school," said Packard. JE Dunn currently has around 20-30 people on site, but as they continue and the building develops, that number will grow. In the beginning, there were about 15-20 people, but towards the end they are expecting to have 60-70 people working on site.
Even with overtime, some projects may need a deadline to be pushed back. When construction started, Principal Charlie Belt said JE Dunn wanted to be done with the soccer complex for girls soccer season. March 1 is the proposed finish date for the fields, and while that is still the hope, weather and rocks are putting those plans to the test.
"We have already had 18 and a half weather days where we couldn't work, and it has impacted us a lot. We ran into a much larger rock than anticipated and we had to level it down to reach the elevation of the turf field. We're not going to give up on the March 1 date, but it's going to be a big achievement," Packard said.
As well as working on the soccer complex, the freshman wing is well underway. Right now, the team is in a four-week steel project. After the steel, they will try to put on the roof, structural studs around the perimeter of the building, and a temporary plastic to get everything dried.
Their goal is to have everything done by August 1.
"We want to give you students plenty of time in advance to prepare for your school year. The kids come back the week of August 14, so we want to give you guys plenty of time to do the things you have to do to prepare for the year," Packard said.
To meet this deadline, there is still much to be done. They are currently prepping for May.
"You kids will be out of school and there is going to be a lot of miscellaneous tasks that need to get done. We will want to be sheet rocking, taping and then painting. We will start the parking lot and then the black box on the north side."
A black box theater is a small performing arts space, about the size of the small gym. It has a completely level, flat floor. You can completely strike the floor and get all the tables and chairs out, making it useful for everything from music groups to ROTC to dance and cheer teams. The black box is to be started after this school year.
There is still much to be done, but the construction team is hard at work to get everything done for next fall.
"Our main goal is to get our job done."