Teachers retire after over 30 years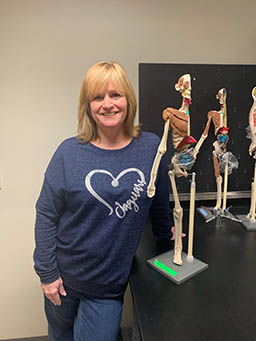 By Hallie Robinson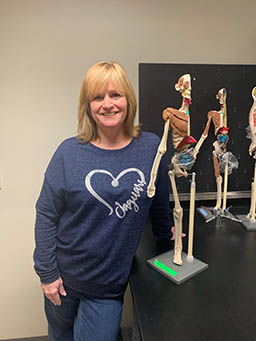 Features Editor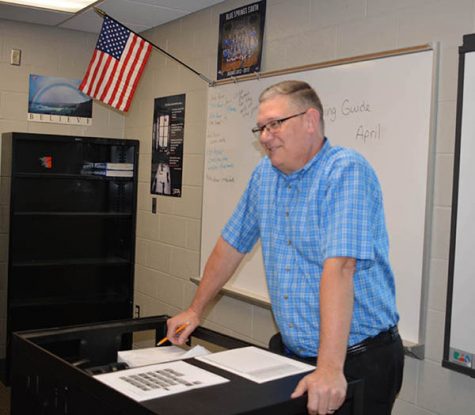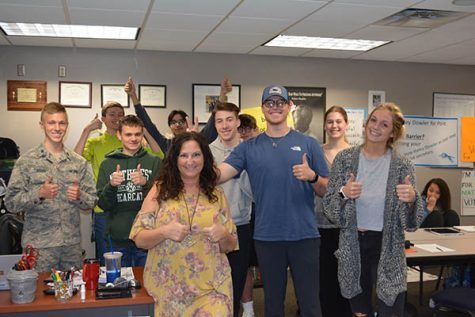 Retirement is a part of the circle of life. For some, it is something to look forward to because all the hard-work is finally paying off.
Social studies teacher Brad Oyler debate teacher Kelli Morill, and biomed teacher Pattie Balano are the retiring teachers for the 2018-2019 school year.
Oyler has been teaching for 35 years. He teaches world history and contemporary issues, and is a former girls basketball coach.
"He has a smile of his face everyday; he doesn't get angry very much." sophomore and student of Oyler Keaton Latlip says. "Our class is amazing. It's so much fun in that class."
At first, Oyler was only in the teaching aspect because he wanted to be a coach.  But once he got into teaching, his viewpoint changed. Not only did he love history, but he loved the relationships he could build with students.
"I wanted to coach, but once I got into teaching I was hooked." Oyler said. "I enjoy hopefully inspiring young people and helping them with their path to decide what they want to do."
He gives his grandmother credit for his love of history. The two went to many museums and historic battlefields together when Oyler was younger, so he believes that is where his passion is rooted from. This love and knowledge for what he teaches reflects back on his students.
"He knows a lot about history so he gives us visual representations of how it goes, and his PowerPoints are all really good." Latlip said.
When Oyler first started teaching, he had quite the variety of classes. He taught seventh grade civics, eighth grade and freshman American history, and 3 different P.E. classes. Other than that, he has only taught at the high school level.
Recently, Oyler was inducted into not only the Greater Kansas City Coaches Hall of Fame but also the Missouri Coaches Hall of Fame. He described this as "a surreal moment and really humbling experience." He even says his best memories of his career are winning state in 2007 and second in state in 1998.
"It was a great moment knowing that you have done something with your career." Oyler said. "It's not so much about the wins it's about the players that you are still in contact with today that you coached thirty years ago."
After retirement, Oyler plans to do some house work, help his dad on their farm, and spend time with his grandchild. Next year, when his wife retires, they plan on traveling the country together.
Morrill is in her 31st year of teaching. She teaches debate and judicial law. Her first two years of teaching she taught full time at Raytown South Middle School, and then part time for a couple of more years. The rest of her career she has taught high school.
At first, Morrill didn't want to be a teacher, but an actress. It wasn't until college that she decided teaching was for her, eventually leading her to coaching debate. Students like senior Drake Wood are glad she decided to take the turn.
"I like her honesty. She is always very honest and open whether it's good or bad," Wood says. "I feel like I have been able to trust her and trust what she has to say. She's not going to sugar coat if I am doing really bad in debate."
Morrill says the best part of teaching is that "light bulb" moment when a student is able to carry out the lessons she has taught. Getting to know her students and watching them grow and be proud of themselves is one of her best moments.
Her fondest memories of her career are with her debate teams.
"When we've been able to win conference or when I have had state or national qualifiers and just to see the joy of all the hard work that we've put in finally pay off," Morrill said.
After retirement, her plans are to relax on her screened in porch every morning, sipping a cup of coffee, and listening to the birds sing. She and her husband are also planning on starting up their own business of decorating and remodeling houses.
Although teaching wasn't a part of the original plan, Morrill found a love and passion for what she does, which she passes on to her students.
"She is very hard and very competitive." Wood said. "She wants the best for her students and we try to do the best that we can to reward that. She tries to push us to be the best that we can be."
Balano is in her 15th year of teaching, but teaching isn't the only career she has had. Her first career was as a dentist, but things got flipped around and teaching eventually fell into her next path.
Sophomore Trinidy Nguyen says her favorite part of Balanos class is every Friday, when she tells her class "if someone's missing a smile, give them yours."
"I think it's just really sweet to hear that every Friday because it's a reminder that there are people around you who are having a bad day," Nguyen said. "It could be up to the person right next to them to make their day a lot better than it already is. I think she is just a positive teacher, regardless of her hard tasks."
As for Balano, her favorite part of this career has been being able to travel with her students. One of the most memorable trips was getting to travel to the Amazon, and doing medical mission work there.
Seeing her students use what they have been learning in school outside of a school setting was what sold her.
Another unforgettable part of Balano's teaching is seeing her students reach that 'aha moment'.
"I love being able to give them curriculum information and being able to, you know, teach them new things," Balano said. "But when they see those new things actually work and why it's relevant, to me, that's what I love about teaching."
Although teaching was not Balano's first career choice, she still gives the same effort and has the same love for what she does as any other.
"She pushes every students because she knows that they can accomplish those goals and more," Nguyen said. "So, she's a teacher that's willing to push students because she believes in them."