Girls tennis wins conference for first time since 2010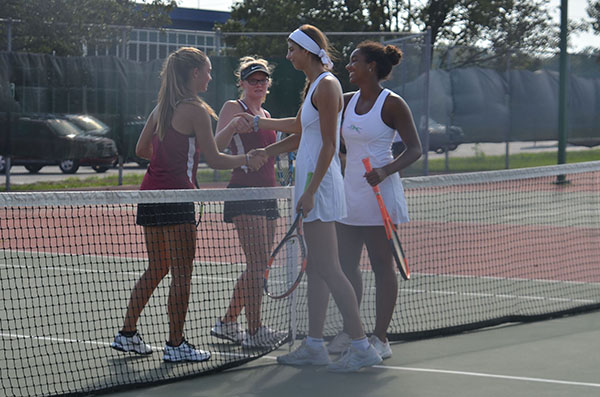 By Sam Harding
Reporter
Earlier this month girl's tennis beat cross-town rival Blue Springs to claim the Conference title. The first title in 9 years for the Jags. 
"We have been working really hard for the past couple years to win and finally we were able to do it my senior year." says Jasmine Tucker. 
The team knew going into the season it wasn't going to be easy as this year's district was more competitive than in the past. 
"We had a really tough district this year and we knew it was going to be hard to get out of it, so it was cool to have some recognition for our really successful 12-1 regular season campaign." says Tennis Coach Jakob Estep. 
A core value for Coach Estep is balance. One of his main goals for this season was to keep a balance between practice and having fun. 
"We try and do a good job of having a balanced practice, we work hard, and we have a good time as well. Drills, games, and we have music going. We have tried really hard for the past couple seasons boys and girls both to have more high energy practices. Less standing around, less waiting in line and just hit, hit, hit." says Jakob Estep. 
The Jags came in fired up to play our cross-town rival Blue Springs on their own senior night. They defeated the Wildcats 6-3 to not only come away with a win but a Conference title. 
The Jags also defeated the Grain Valley Eagles 5-2 in the district semi-finals to move onto the finals against to the Rock-Bridge. 
"The girls fought as hard as they could, but we were no match for the strong Bruin team from Rock-Bridge." says Jakob Estep 
They fell short in District finals losing 5-0, as Rock-Bridge is on a quest to claim there 6th straight state title.