South football welcomes new head coach for 2019 season
By Chris Langston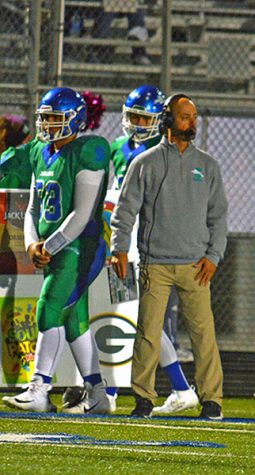 Sports Editor
Facing a variety of difficulties this season, there are many newcomers on the Blue Springs South football team that have made their appearance for the 2019 football season. Among these is brand new head coach Matt Klein. Klein previously coached at Marquette High School for 4 years previously before coming to South in 2019. Klein teaches Physical Education at South. 
Although a not so familiar face to the students of South yet, Klein has made an impression among returning players on how the new coach will run the South football program. As for the new players this season, Klein will be delivering their first taste of the new and improved Blue Springs South football program. 
"I think my favorite part is being around the kids and that kind of daily atmosphere that we are creating with our kids that want to be here and want to be on this team, and that camaraderie that is my favorite thing about being on a football team and this program," says Klein. 
"My favorite part about coach Klein is he can push us to our limits and still motivate us to be the best player we can be on and off the field", said junior Lineman Evan Thielen. Klein has been known this season to push players to their limits.  
"He's a great coach that disciplines us and makes us work harder than we ever have before through a more intense training and practices", says junior defensive end Aden Birdwell.  
Klein is replacing previous head coach Jon Oyler, not only a South graduate but a Missouri all state linebacker, stepping down after his 3rd year of head coaching for the Jaguars last December in 2018.  
The Jaguars have faced fierce competitors but come up short to have an overall record of 1-5, with a recent win over William Chrisman. The Jaguars' next game against Park Hill South High School, on October 18 at 7pm.