Q & A with Mya Trober
Connor Curry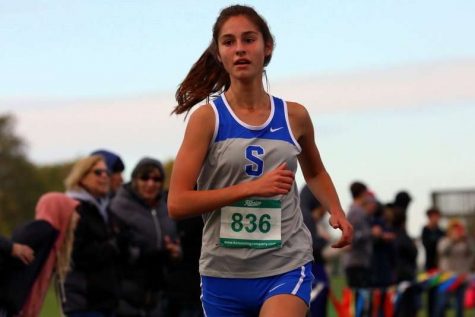 Reporter
Mya Trober is a sophomore and a member of the Blue Springs South Girls Cross Country Team and is an athlete that has had an outstanding year. She competed and finished second at C4S4 on November 3rd, overall, her team finished second, and now they qualify for the state meet at Gans Creek Cross Country Course in Colombia, on Saturday, November 9th. Start time for the girls is at 1:05.
Q: What do you do for preparation before a race? 
Mya: We have a warmup routine that we do before every race that includes a fifteen-minute run and sequence of stretches and strides. But what helps the most is the team motivation and support.               
Q: What is your personal record in a race? 
Mya: My fastest time I've ran this season is 18:35. 
Q: Let's say you are mid-race, what is your thought process to help you get through and finish the race? 
Mya: Most of the time I'm focused on the team goals that we have but I think about my other teammates and how I'm running for them. 
Q: And finally, how are you preparing for the state race? 
Mya: I'm getting the sleep I need, staying focused, and again I'm running for my teammates.