South community makes Bowls for Souls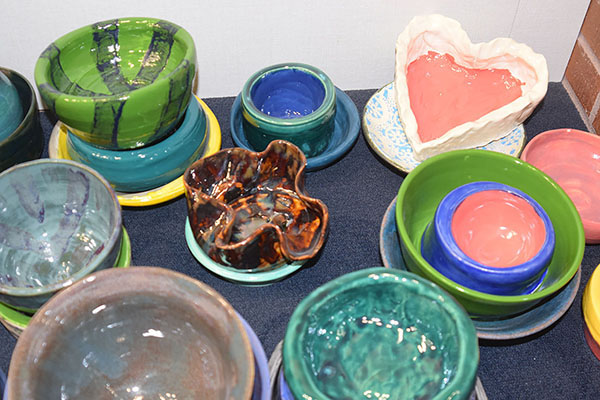 Hang on for a minute...we're trying to find some more stories you might like.
By Emily Wilson
Assistant Editor
From clay to community, tonight organizations from across South including Renaissance club, Sophomore Reps, Mud Throwers, Deca, Hospitality and Tourism, Senate, and more will be hosting Bowls for Souls to raise money for those in need in Blue Springs.
The staff, students, members of Mud Throwers, and even alumni have been working on the ceramic bowls you will receive with a purchase of a ticket to the rivalry boys basketball game against Blue Springs High School to raise money that goes straight back into the food pantry at South and the homeless in the community. The tickets are $10 and include admission to the game, a bowl, and chili served by students and faculty. Because the event falls on Valentine's day, they will be selling vases with flowers at the game to raise funds as well.
"This affects so many people," says Mud Throwers sponsor Carlee Martin. She says the money not only goes toward the kids here who need backpacks from food pantry (backpacks include food, toiletries, some household products, and school supplies depending on individual needs for single students or families), but also toward helping feed the 27 school district student families who live in a hotel in Blue Springs. Both of those things are fully funded by Bowls for Souls, as well as student and staff donations.
"That's why we do this. It's so we can help kids here that just might need a basic need," she said.
Like senior Jaidyn Bradshaw, Mud Throwers play a major role in the event.
"It's so rewarding selling tickets and knowing that the money is going towards feeding the homeless," Bradshaw said. "It's also rewarding to the person buying the ticket and taking home a special, one-of-a-kind bowl that they will look at and remember what an impact they made in our community."
The event is one night only but takes a year to plan and prepare for.  "It's really neat to just have a school wide process that goes into it," says Martin.
The process starts with making the bowls. Mud Throwers is an organization that makes a good majority of the bowls, but they are not alone. Teachers had the opportunity this year to get involved with making bowls for the event at their professional development day in October. The South baseball team helped paint some bowls as well for the following years event. While these groups and more create the bowls, organizations like senate and sophomore representatives plan the event and get the sponsors involved. The Hospitality and Tourism program (the organization responsible for bringing their food truck to the hotels) and the culinary students make chili that is served in the bowls the night of the event.
The event is a big drive to help the funds for the programs like the pantry that crucial to some students in our school, but there will also be a fundraiser at Panera in Blue Springs to raise money if you would like to donate but cannot make it to the event. The pantry is also in need of backpacks. Bins are placed around the school to donate. If you are in need of assistance, you can get a slip from outside of room 204 or you can directly text Martin.