Love is all around at South
By Hallie Robinson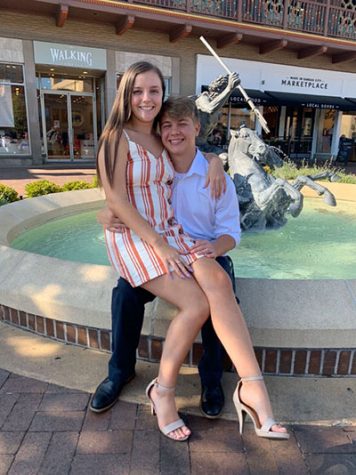 Features Editor
Love makes the world go round. It can make people crazy, some people hate it, but all in all, it's all around us.
Valentine's Day is a day to appreciate love and show people how you feel. While relationships are not always easy, most of the time it has a wonderful outcome.
Juniors Kylee Ashby and Noah Meyer have been together for 13 months. They say the key to keeping their relationship strong is "trust and communication."
"My favorite thing about him.. Is everything an option?" says Ashby,"sense of humor, personality, really everything."
Relationships in high school are known to be hard to keep, but these two have figured out how to make time for each other and never give up on their relationship. They met in freshman year bio-med, and the rest is history.
"After an argument we just give each other a minute of space," says Meyer, "and we both eventually realize what we did wrong and come back and talk about it."
What can be even more difficult than just a relationship is marriage. It has its highs and lows, with a little bit of oh no.
Math teacher Kyle Christian met his wife, Makenzie, working out at the same gym. The two have been together for 6 years, but married for 3 ½. They have a son named Oliver Reese. Oliver is a chocolate lab. He says the key to keeping a strong marriage is to "do everything your wife wants."
Something Christian does that makes his wife angry is when the house is not picked up because she likes everything to be clean. When these things happen, they always figure things out and make up.
"I say I'm sorry and profusely apologize for whatever I may have done wrong or did do wrong." says Christian.
While they have only been married a short amount of time, science teacher Scott Poertner has been married to his wife Kim for 28 years. They have 3 kids: Kaitlyn, Maddie, and Jackson.
"Our key is working together on everything." says Poertner.
The two met in college at Missouri Southern. While Poertner says they never fight, he does anger her from time to time. An example is when he has both the radio and TV on at the same time, because she says it's "too much going on."
Not every married couple never fights. Some couples are polar-opposites, but they're right for each other. An example is English teacher Jason Strait and his wife Tricia DeGraf, who have been married for 15 years. They have two kids, Jonas and Eliza.
"When we were younger, like in our 30's, we would get in a fight. I would get over it so quickly I would just lay down and fall asleep." says Strait "And then my wife will be awake stewing and she would be furious. And so you know we both get to a place where you're passed it and just hug it out. It's all good."
He says the number one thing he does that makes her mad is when he jokes around too much. While they can have a nice laugh and have fun, there are times when the jokes don't match the mood.
The key to keeping their marriage strong is making sure everybody is putting equal amounts into it.
"Whether that means somebody works for 12 hours, whether that means the other person is making dinner, you're all contributing in an equal way." says Strait "when that equality sort of goes off kilter, I think that's when problems come into hand."