Plummer named South, District Teacher of the Year
By Katie Wuenschel
Journalism I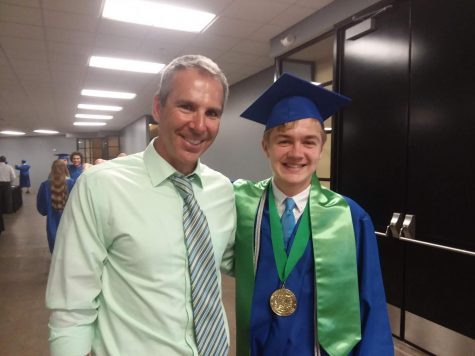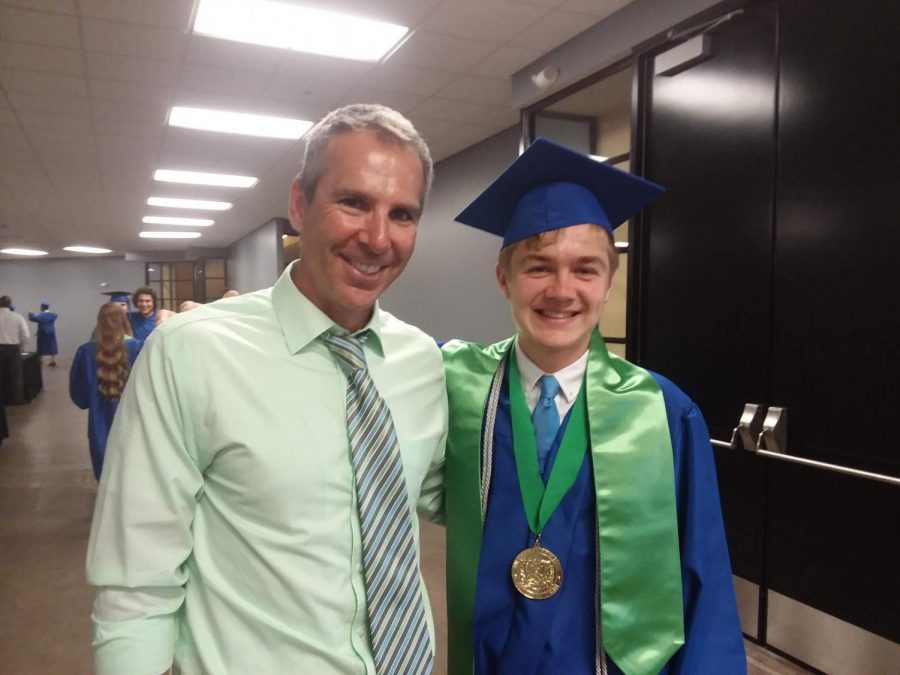 Most high school students would find history boring; however, with Kyle Plummer as a teacher you never know what to expect.
Plummer teaches World History and Dual Credit World History to sophomores at Blue Springs South High School.  He also teaches a semester-long class all about World War II, as well as being the boy's track and cross-country coach.  He is known for being a playful teacher and always keeping his students interested with jokes and stories. He always makes an effort to interact with every student in his classroom.  Mr. Plummer was named the Blue Springs School District Teacher of the year.  He loves getting to share his love of history with all of his students.
Plummer was sophomore Kaylee Lynn's favorite teacher.
"He is nice, playful, and laidback.  He always knows the perfect way to make you laugh," she said. Lynn is in his 5th hour Dual Credit World History Class.
Plummer describes himself as driven, and others have described him as humble, kind, and selfless.
When asked why he wanted to be a history teacher, Plummer said: "Why wouldn't I?  It's the best job on planet Earth.  I've always loved history and love the school setting."
Plummer has been teaching for 24 years at Blue Springs South.  He coached girl's cross-country and track for ten years and has been coaching boys cross-country and track for the past nine years.  His favorite thing about being a coach is the relationship he gets to create with the runners.
Plummer decided to coach track and cross-country because he ran them in high school.  His coach was a positive influence in his life.  He wanted to have the same impact on the kids he coached.
"Coach Parker, my track and cross-country coach, was the biggest influence in my life while I was growing up," he said.
In March of 2020, Mr. Plummer was named the Blue Springs South teacher of the year by a committee of teachers and administrators.  In May, he was named the Blue Springs School District teacher of the year award.  Now, he will go on to competing with teachers around the state to be named the Missouri teacher of the year.  He can always make your day better with his silly jokes and passion for teaching.  He always makes connections with his students.
When asked about how he reacted to winning teacher of the year, Mr. Plummer said: "I was very surprised especially after hearing all of the other impressive accomplishments of the other nominees," he said.
For most students, history is a boring subject.  However, when Mr. Plummer is your teacher you never know what to expect. While teaching about Michelangelo, he made his student color pictures under their desk so they knew what it would have been like for him painting a church ceiling.
Sophomore Turner Thompson is a track and cross-country runner and has Plummer for Dual Credit World History.
"Something unique about Mr. Plummer is his jokes.  He's always finding new ways to make everyone laugh," he said.
Everything around us is constancy changing. Plummer feels the same way about teaching.  Things are always changing, and you always have to figure out what things are workings and what things aren't.  He finds that the longer he teaches the more the job entails.  He uses the example of suicide prevention.  It is a relatively new thing that has been introduced in schools.
If Plummer wasn't a teacher, he would be a forest ranger. As a kid, he loved building forts and treehouses with his friends.  One of his hobbies outside of school is landscaping.  His mom was doing it when he was younger, and he naturally gravitated towards it.   He also enjoys running and taking walks with his wife and their dog, Buster.
Plummer is a family man.  He met his wife at church when they were younger.  Now, they've been married for 30 years.  They've adopted two children, Quinn and Chloe.  His favorite family memory is their trip to California.  They visited almost the entire state in one trip.
A new class that was brought to the Blue Springs South this year was Dual Credit World History for sophomores.  Plummer is one of the teachers that teaches this new class.
"Any new class a teacher takes on is a lot of work," Plummer said.
He explained that the class is more reading and harder tests than World History.  Since the class is brand new, teachers had to make all new material.  He worked with teachers from Blue Springs and Blue Springs South High School to make everything come together.  He enjoys being able to teach something he enjoys on a deeper level.  In his regular World History classes, he does more projects and small activities.  In his Dual Credit classes, he finds that there isn't enough time.
"I consider it a blast to teach teenagers, probably because I never actually grew up!" Plummer said.