South Resource Office has a canine partner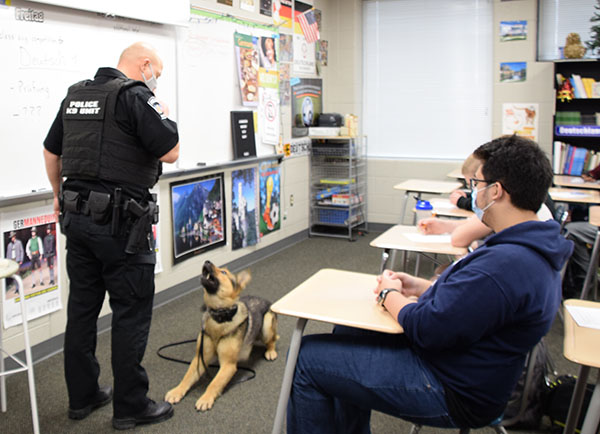 By Liv Edwards
The Jag
School resource officer  Russell Berry and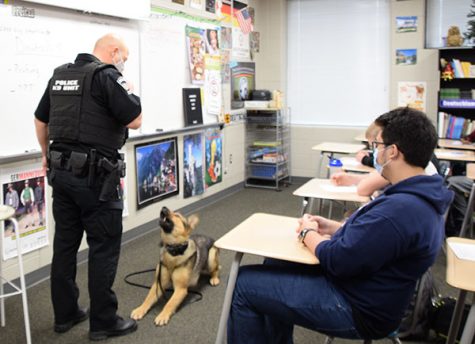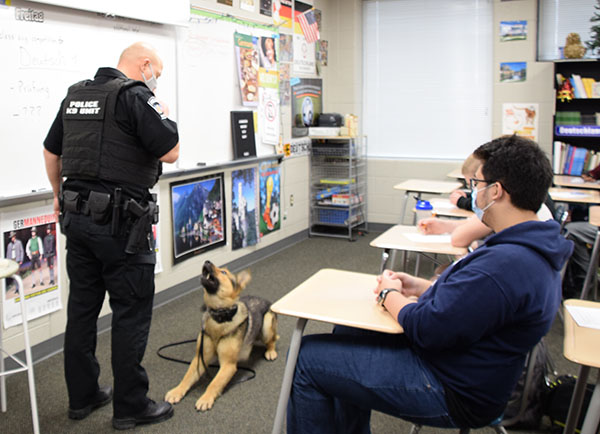 his four-legged partner, Ado, joined Blue Springs South earlier this semester.
Officer Berry's regular day isn't so regular to the rest of us.
"I make sure the staff feels safe to do their job and I focus on making sure the building is secure," he says.
His prime responsibility is to provide safety and security to the building, including, making sure every person in the building is supposed to be here, assuring safe transportation in the parking lots, and making sure we have a safe cultural environment.
One of the many pros of his job is working with his partner Ado. Ado is a German Shepherd and was brought to this country from Poland. Officer Berry has been working with Ado since he was nearly a year old. He is now four years old.
While Ado was in Poland, they trained his drive to work. Once trainers decided he could work and obey, they sent him over here to the U.S. to begin initial training. He was then partnered with Officer Berry so they could begin training together.
Officer Berry and Ado have formed a great relationship over the years they have been working together. Ado lives with Officer Berry at home. This makes it easier for when they are needed at random times throughout the day or night.
Berry has been a part of our school district for several years. Many of the students here at South have had the pleasure of knowing Officer Berry during their years at Delta Woods Middle School. He began working at Delta Woods and in the Blue Springs School District in 2012.