Behind the scenes of 'Puffs'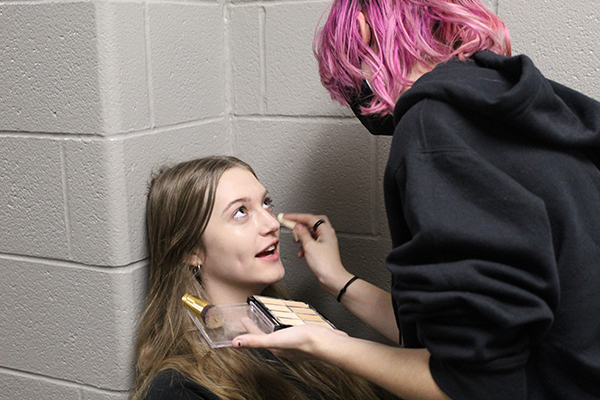 By Karly Bonsasa
The Jag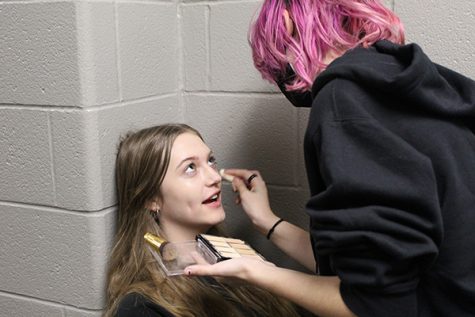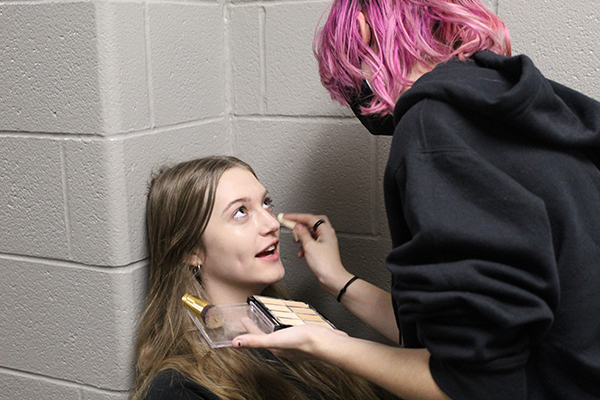 A lot goes into the school plays and musicals. The actors work hard, although they aren't the only ones.
The stage crew this year has been working hard to adapt to Covid regulations and make their presence known. Stage crew consists of make-up, lighting, sound, and building. 
Make-up does actors basic or complex stage make up, based on what the director wants and what the show may be about.  When it comes to the crew, they use lots of communication between officers and from the president to the rest of the crew so they can get started. Make-up usually gets basic ideas from Instagram or Pinterest, and they also keep in contact with presidents who have graduated. 
Once they've gotten ideas, they start slowly by teaching the rest of makeup crew the basics and practicing the makeup on each other. With restrictions on contact because of covid, the makeup crew has had to adjust the way they do things. They have to keep masks on and practice makeup on the top halves of their face. When show time comes around, because actors will have clear masks, they will have to take off actors' masks in order to do a full face of makeup. 
" I wish that people knew it existed more. A lot of people didn't know that makeup crew was a thing until posters were put around the school. So, I just wish it was more known. And also, credit, a lot of people kind of just forget us—we do get forgotten sometimes," says junior Emily Smith, president of makeup, about stage crew. 
Smith has worked hard to spread the presence of makeup crew known by putting up more posters and setting up a social media account, run by Shaella Donohue.
 "It's fun and I just wish people knew how fun it is. It's nice still being a part of the cast and the crew. It's just a big happy family," says Payton May. 
This large group of individuals work hard to make the play look as great as it usually does and have fun at the same time. 
"Our backstage is our stage. Yeah, there's no lights on us, there's no costumes, but it's our stage" says Smith.
Sound crew consists of two people, Kendall Morris and Dylan Collins. These two work the sound board that allows actors to project their voices into their mics and cues different sound effects. When preparing for the play, Morris and Collins typically move at the pace of the actors and sitting in rehearsals writing down notes for themselves. After working sound for the One Acts last year, they've learned to co-operate well and manage their time nicely. 
Collins says it feels powerful to work backstage and Morris agrees, 
"Seriously like if you don't do your job then no one's going to hear them because they expect to be mic-ed and usually they won't speak loud enough for projection to happen." 
While there are many upsides to being backstage sound crew also wish for more recognition. Stage crew is important, and it adds lots to the play whether it is makeup, lighting, sound, or the set itself. Morris says, "It's not just like people performing; its more than that." 
Lighting consists of two people as well, Olivia Svoboda and Addison Fox. These two work the lights, which Svoboda says, enhance the stage and add the tone and mood of the story to the play, "It adds another layer." 
When it comes to preparing for the play, lighting typically starts off slow and also moves at the pace of the actors and when they get closer and closer to show time, the more they need to come to practice and the longer they have to stay. Preparing for the play is a lot of practicing and repetition of the same things over and over again. 
Svoboda also agrees with the idea of more recognition for stage crew because a play is not just people who act but also the setting of where they act and they way they look and dress while performing because lots of hard work that comes from people on and off stage. 
Building crew is based on building the set by hand and splitting the jobs up between different people. Building goes through work by dividing and conquering. One group uses drills, hammers, handsaws, and other construction tools to work with the wood. The other group usually uses acrylic paint to paint the wood, and wood stain. 
Junior Zoe Pacubas says its hard at first but it gets easier, usually with the help of the chief. While it takes a lot of hard work, Zoe says its still fun and she continues to learn beneficial attributes from being apart of the crew. 
If there's one thing stage crew can agree about, regardless of their different jobs, they deserve recognition for their hard work and time management. A lot goes into a play, on and off stage.