Harry Potter based play 'Puffs' comes to South's theatre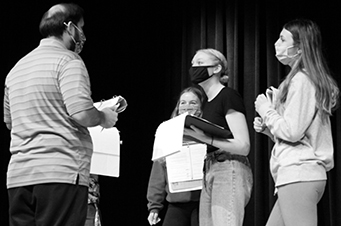 By Lukas Belzeski
The Jag
The South Theater Department is performing the play "Puffs" this November. 
Puffs, or its full title "Puffs, or Seven Increasingly Eventful Years at a Certain School of Magic and Magic", is a comedic stage play which premiered in 2015 at the People's Improv Theatre. At South however, it will be running from November 11th to November 12th at 7pm each night and November 13th at 1pm and 7pm. Tickets are $5 for students and $7 for adults. Tickets can be purchased at the door or online at BSSHS.SEATYOURSELF.BIZ.
It paraphrases the story of the seven main Harry Potter books, told from the perspective of the Hufflepuffs. It invents three leads who are not from the original story nor the movies, though references and features several characters who are. For example, Cedric Diggory, Harry (usually referred to as Mr. Potter), and Voldemort (renamed Mr. Voldy). Like the aforementioned names, many others you may know from the Harry Potter universe are changed, usually with a comedic styling. Gryffindors are called "Braves", the Ravenclaws the "Smarts", and the Slytherins the "Snakes." The entire plot covers the major events from each book, running parallel while focusing on the new leads.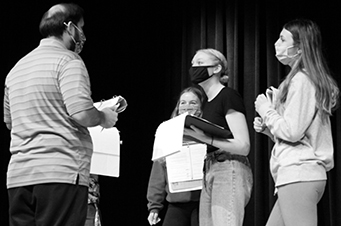 The leading roles are Wayna Hopkins, Megan Jones, and Oliver Rivers. Wayna Hopkins, played by Macee Lewis, is the main character and narrator. She dreams of being a hero, but is unconfident in herself.She is a gender-swapped version of the character "Wayne" from the original. 
Megan Jones, played by Anna Miller, is trying to discover who she is and who she wants to be, a character trait present throughout the show. 
"She's really unsure of herself, but deep down she's really kind at heart," says Miller. 
A major reason for this identity crisis of hers is her evil mother, imprisoned for working with the Dark Lord, Mr. Voldy. She aspires to be like her mother, but they are fundamentally different people.
Oliver Rivers, played by Xander Corkins, is intelligent, and wishes to be a famous mathematician, though goes to a school which doesn't have such classes. 
Tim Haynes, the theater teacher at South, says this play was picked to run this year because students participating in theater had an interest in it, it was generally appropriate for the audience they perform for; it had been on the backburner for a while, and it is especially challenging to put on. The major reason for this difficulty is the pacing of the challenge of running through seven books of material and not making it last several hours. It's also hard to have proper characterization in such a frame, as well as to balance the comedy "Puffs" is known for. 
Haynes had much to say regarding this play and South's yearly plays in general. After multiple years of practicing in masks, it's become a non-issue, though, there is difficulty switching to the see-through masks they will be performing in. The plays help students grow as performers, but more as people in terms of organizational, teamwork, and general social skills. 
"Puffs" is running from November 11th-13th. Tickets are $5 for students and $7 for adults. You can buy tickets at the door or at BSSHS.SEATYOURSELF.BIZ.