Sarah Haines takes on high school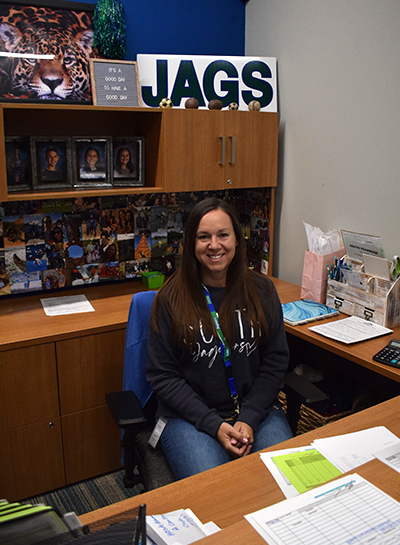 By Mira Asllani
The Jag
Sarah Haines, an administration assistant in Blue Springs South, is also a BSS mom.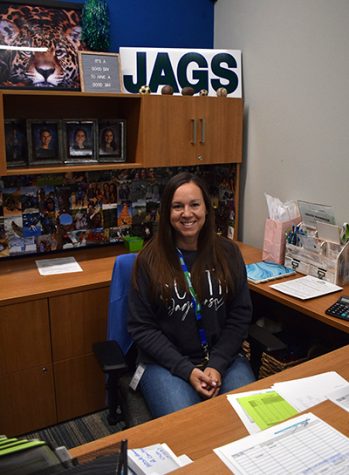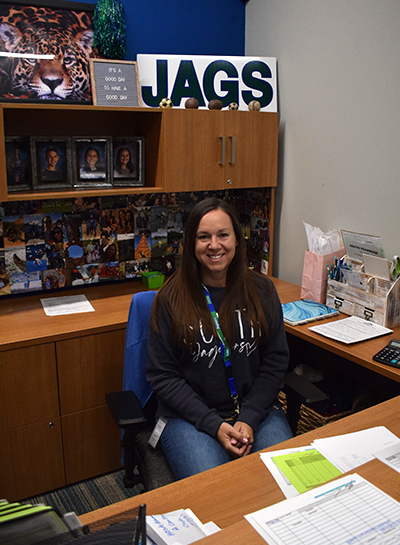 "I have four kids; my oldest daughter is a sophomore here, my son is in 8th grade, my twin daughters are 6th graders, and they all go to Moreland", she explained. 
   Having originally wanting to be a P.E teacher, she found another passion elsewhere.
"I am from western Kansas, and I went to Garden City High School. After that I went to college at Fort Hays State University, where I majored in physical education. I originally wanted to be a P.E teacher," said Haines. "When I graduated from college, it was in the middle of the year. Kindercare were hiring, so I went there. That's when I fell in love with working with the pre-school age". 
  Haines has been working with children for most of her career, while trying to be near her kids most of the time. 
"After getting married, I got pregnant, and I ended up working at a pre-school for 12 years. This allowed me to do something I really enjoyed, and to also be near my kids and work with them," said Haines. 
  Haines said she loved her previous job, she had to make a change once again.
"I had to start looking for another job when my kids grew out of preschool. My job would sometimes start at 6 am and end at 6 to 6:30 PM. This schedule wouldn't match up with my kids' activities," said Haines.  
Haines talked about her day-to-day.
"I help Mr. Grice with activities. However, one of my biggest responsibilities is budget, and figuring out the budget for all the different sports and activities. I deal with placing orders, and that is a huge part of my day that takes up a lot of my time." Haines said. 
Having a passion for sports, a lot of Haines' job focuses on that part.  
"I help with all the activities that have gated entries, such as the football, volleyball, basketball, soccer games.I help staff them, coordinate the money and workers. I love activities, and I love being around sports, and getting to be part of the extracurricular activities. 
Haines likes getting to know all the new people and students. 
"I like meeting the students and getting to watch them play. Seeing new people, making new friends, building new relationships with people is definitely one of the highlights of my job."
To clear her head from the numbers, budgeting, emails and managing the activities, Haines likes to run. Her focus on sports continues during the day when she watches her children play games and cheer and goes to their cross-country meets.