Counseling office gets a new assistant
By Evelyn Carter
The Jag
Tabitha Cauveren is an assistant counselor at Blue Springs South that enjoys being around children and kids of all ages.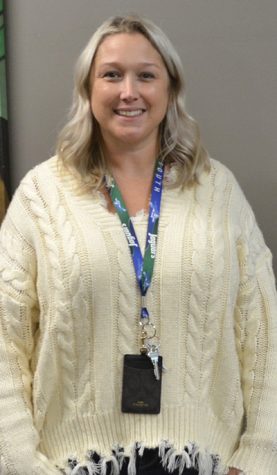 "I am a caregiver for the most part," she says. "I am always the one that tries to fix everyone's problems, or I give a listening ear. I have a gift in advice, and I seem to be asked for it a lot."
Cauveren came to south from an elementary school where she was a secretary. She started out at the University of Arizona before she transferred to a local community college where she majored in Business and Administration. She did not originally see herself doing this, as she worked for 20+ years in the corporate world when she decided to change careers so she could be closer to her home. She says she moved to South so she could be near her two children; one that graduated in 2006 and the other being a freshman. 
"It's just a community, like a small family," Cauveren says about South. "When I first started working here, the feeling that I got from the staff was just so impressive."
Cauveren was also a girl-scout leader along with being an elementary teacher. She says that watching the elementary students grow up and go off to middle school is amazing. Cauveren also says that some of the freshmen were kids she knew in kindergarten, and that it is astonishing to see them all grown up. She mentions that she loves working with children, and that it's always been something she loved. 
"I'm honestly pretty content right here. I'm close to home, I like to work with children. I'm really okay with where I am, this is going to be my permanent spot for a while."