Girls cross-country team wins State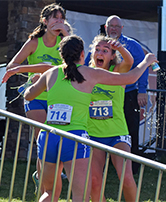 By Mira Asllani
The Jag
South students have great school spirit, and for good reason. The students at this school have shown multiple times that they can achieve things that don't come so easily. And that is exactly what the girls' cross-country team did this year. A team of 6 dedicated and skilled runners, showing their ambition for the past two years, have left their mark in South's history, winning the State championship for the first time in 30 years.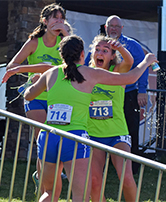 "We have been on the podium 6 times in the past 8 years and have been very consistent on being at the top of the race, but we have never actually won the title until now", said coach Ryan Unruh. 
The race took place in Columbia, Missouri, at the University of Missouri, in Gan's Creek. Unruh talked about the conditions of the weather and the course, which mixed with the confidence of the runners, helped them greatly. 
"The weather was perfect, and the course was flat and fast, so it was great. It is a really good course, and it is brand new. The season was awesome, we were the best team in the state all year." Unruh said. 
Senior Runner Mya Trober agrees with her coach's statement. 
"It went better than I expected it to. It pretty much went perfectly for our team, everything just kind of fell into place for us and we have been working really hard all year and we are glad it went the way it did."
Talking further about the state of the runners, Unruh mentions how good the runners performed that day. 
"We knew the girls were going to run fast, the girls were really fit and super confident, so we knew the race was going to go really well. We were second the first kilometer in, and after that we took the lead" he said.
Unruh said that apart from the race going very well, the season went great too. Trober further explains how they managed to have a superb season. 
"The season was very up and down. We encountered a lot of annoying mishaps, but we persevered and got through it."
But even after practicing hours after hours, winning race after race, the importance of such a hard race can get to anyone. How does one know they are still going to win, just by looking at them? 
 "I knew they were going to be state champions when I saw them at the 1K mark, the way they looked, the position they were in, and at 2k I absolutely knew we were going to win. The way they were running, how they were working together and how close they were, I knew it was over, "Unruh said. 
Mya Trober, however, said that she had no clue how the other teammates were going to rank and was doubting the team's win.
"I didn't know we were going to win. Me and one of my other teammates were waiting for the girls to finish and we thought we had lost. So, we were walking out of this little tent area, and then we saw our coach and he held up the number one. So, we didn't even know until 5 minutes after we were finished,"
It is important to keep in mind that ranking and points in cross country work differently from most sports. 
"What your place is, is what your points are. Mya Trober was fifth, so she got five points. The lowest score wins," Unruh said. 
The other runners did well, ensuring the win. 
" They ranged from the 29th to 49th maybe, which is still super good," states Trober.
If wondering what it takes to win state and what is special about what they have done, here is a quick description.
"For two years, they have just shown up every day and worked all year around. We met every morning in the summer. They just ran every day. And they love each other, so they ran really hard for one another. Most of the girls in our varsity team ran anywhere between 800-1000 miles since June. So, they cover a lot of ground, and daily practice just like any other sport. And we do a bunch of different workouts" Unruh said. 
Trober went on talking about how they motivated each other for this victory. 
"We kept (our) motivation. We believed we deserved it because we had worked really hard for it. We wanted to represent our school and we knew that we could pull off the win. We wanted to bring that back not only for ourselves, but for our school and coach," she said
While it is obviously mainly all hard work, Unruh believes it takes a little bit of luck too. 
"You have got to be at your best and maybe rely on other teams to not be at their best, but you have got to get your kids to the start line healthy, confident, and fit, which is how all the runners of this year's team were," he said.
But besides all the talk about how hard they worked, their reaction to winning is the most intensive part of this victory. Trober explains how she and her teammates felt. 
"We just burst into tears when we realized we had won. It was surreal. Sometimes I still think about it, and we just think we actually did it, because it is something we have been talking about for years, and just the fact that it actually happened, still hasn't sunk in."