Girls swim prepares as state and district meets approach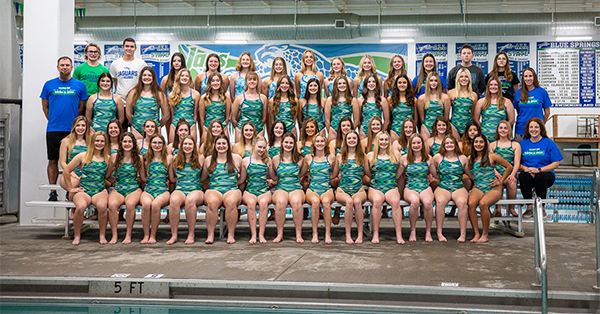 By Olivia Svoboda
Copy Editor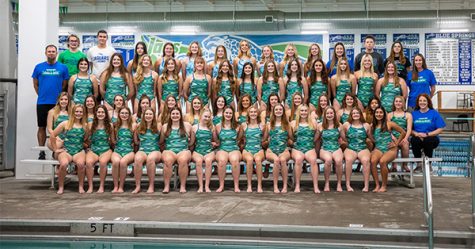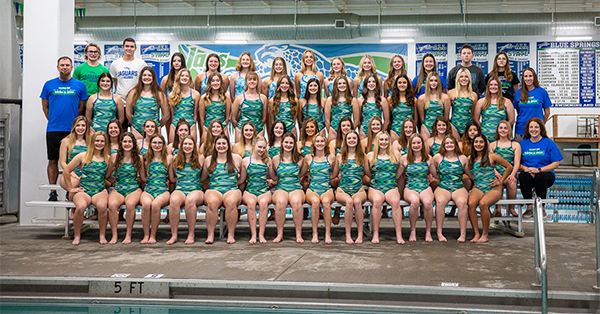 While swimming in the winter might seem odd to some, it's nothing new for the girls swim team. Their season is nearing its end, with district and state meets happening soon.
As of January 17, the team is 26-1 in dual meets. According to Coach Errich Oberlander, the team is especially strong in relays and diving.
Kennedy Hecker is a senior on the girls swim team. She swims freestyle and relay.
"I love racing; it's my favorite part about swimming. It's so much fun to push yourself to your limits and see how fast you can go. I'm the anchor on two of our relays, so I get to race and try to catch people often, making the relays even more fun," Hecker said.
Freshman swimmers have been noteworthy this year, too. The girls broke the record for the freshman 200 medley relay and the freshman 200 freestyle relay.
"It was so cool to see their hard work pay off and to see them accomplish something they have been working for the whole season. Everyone was cheering, and it was a great environment to be in," Hecker said.
To get these results, the team has had to do intense work. Coach Oberlander says that practices are after school every day, along with morning practices one to two days a week. Their workouts include cardio and weight training, along with getting in the water.
Addyson Ingersoll is another senior on the girls swim team. She swims backstroke and butterfly.
"When we practice, Obie is sure to push us in the best way possible. He challenges us, encourages us to push ourselves, and works with each of us individually. At practice, all of us girls like to blare music to help encourage us," Ingersoll said.
The girls on the swim team spend hours practicing and competing alongside each other, which brings them closer together.
"Senior night was a lot of fun; us girls had a great time, and everyone was up and cheering each other on," Ingersoll said.
At the team's most recent competition at Mizzou, the girls took ninth place out of more than 40 teams. According to Coach Oberlander, there were four top eight performances: Kennedy Hecker in the 50 and 100 freestyle, Alyssa Mainard in diving, and the 400 free relay of Micaela Richards, Amy Pollard, Trinity Tuggle and Kennedy Hecker.
As district and state meets approach, the team is working tirelessly to prepare. They do something called "Hell Week," in which the team has morning and afternoon practices, and they push themselves to their limits.
"We are doing really hard sets to prepare; we are dragging, which means we put on actual layers under our swimsuits, so we're just making sure we are getting the good practice in," Ingersoll said.
Ingersoll hopes to drop her time by two seconds for state, and she has no doubts about the team's readiness for conference.
District and state competitions will be in February. Even when the season ends, though, the girls will still have the new and old friends they made while swimming. 
"I could not ask for a better group of girls to train with. We push each other and help each other get better, but we also know how to have fun," Hecker said.