Fine arts students head to all state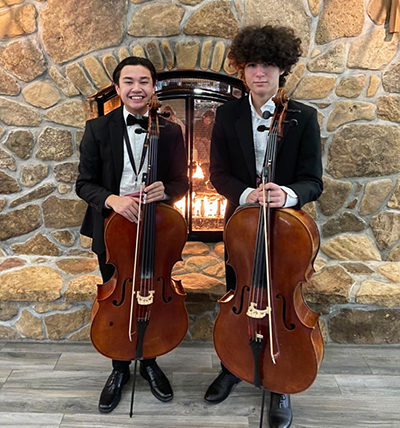 By Kaihli Mitts
Editor-In-Chief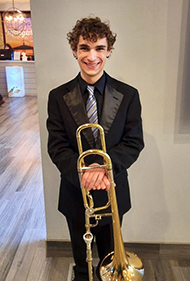 There are more than 2,000 students at Blue Springs South High School, and five of them have the privilege to call themselves all-state members in the fine arts. Specializing in choir, orchestra, and band, these talented individuals have worked hard on this year's auditions, and even harder throughout their musical careers.
"The All-State ensembles are part of a festival hosted by each musical teaching organization to highlight the best performers in each discipline and provide them with a collaborative opportunity to perform together in an ensemble," says Jamey Mitchell, orchestra director at Blue Springs South.
Senior Anna Miller represents the choirs here at South. Senior Conner Yamnitz and junior Jacob Suchman do the same, representing the Blue Springs South Jaguar Pride as members of the Missouri all-state band. While senior Xavier Bowling and sophomore Carter Medina do the same on the orchestra side of fine arts. 
"It's a wonderful group and knowing that there will be kids from all over Missouri with the same passion for music as you is extremely inspiring," says Medina. 
Anna Miller is one of eight alto voices in the Missouri all-state choir. Conner Yamnitz plays the trombone, and Jacob Suchman plays the trumpet, both for the Missouri all-state band. As for all-state orchestra, Xavier Bowling and Carter Medina both play the cello. 
Each one of these students come from different schools, different backgrounds, and different learning styles. However, they all go through the same audition process. In order to audition for all-state, students must be in the all-district ensemble as well. Both audition processes are similar, though higher expectations must be met during all-state auditions. The audition process for all-state ensembles consists of difficult excerpts of music, many of which are the same level of difficulty as those played by professional symphonies, as well as the hours of preparation that come with it.
"The audition materials for each discipline are designed to be prohibitively difficult," Mitchell says.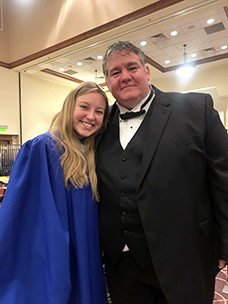 These pieces are meant to be difficult to test each participant on the level of skill they can and/or do exhibit. All-state members are the best of the best in the state of Missouri when it comes to each specialized ensemble.
"Auditions are very competitive, so you have to put in a lot of time and effort to be able to get your audition material to the point where it's harder to mess up than to play everything correctly," says Conner Yamnitz.
More often than not, these state musicians practice their instruments anywhere from three to five hours per week. Their practice sessions are on their own time. Sometimes they practice individually, while other times they may practice with a specialized tutor.
In the long-term, though, these students have been working since they were in middle school to do wonderful things with their instruments and talent. For example, Anna Miller has been singing for as long as she can remember. All-state choir has been on her mind since she stepped foot into the high school level.
"I've known that this was my goal since freshman year, so I've always worked extremely hard in choir just to hopefully get closer to achieving [this]," says Miller.
These students work hard to balance their schedules between following their dreams and listening to their hearts. 
"I purposefully didn't get a job after October just because I was going to be so busy with everything going on," says Miller, the only Blue Springs South choir member in all-state. "It's really just figuring out how much time to spend on one thing. Or what days I'm going to work on [one thing] and what days to work on [another]."
As for future plans, these students are already thinking ahead when it comes to their musical careers. Some plan to focus on school and higher education, while others are looking up to the next big step above all-state.
"I have a few more auditions for programs around the nation that I'm very excited for," Medina begins, "I hope to be admitted to as many of them as possible."
These all-state programs are not only musically and emotionally demanding, but mentally as well. You learn so much about music and yourself while being in all-state. Blue Springs South's all-state individuals learned how to stay humble, and went through feelings of joy, stress, and even loneliness. When playing extremely challenging music in front of judges, you have to learn to be confident, especially when playing alone.
"It can be terrifying to walk into a room full of incredible musicians, but you have to play confidently and to understand that you deserve to be there along with everyone else, regardless of whatever doubts may be in your head," Medina says.
Even something as little as an unsteady breath can make or break the judge's decision on If you get the spot or not. 
"It all comes down to a judge's ear, because sadly that's what it's based off of. A panel of people who are listening. It's not a computer system that's grading you or anything. I really think that's what It came down to, because I was shocked when I didn't see other names on [the list]," Miller says, referring to her classmates.
"With state, you get into the mindset of, 'Yes, I'm talented, but I need to remember that this doesn't make me any better than any of my other peers. It doesn't make me any different from them either. We all worked very very hard,'" Miller says.