Girls basketball makes school history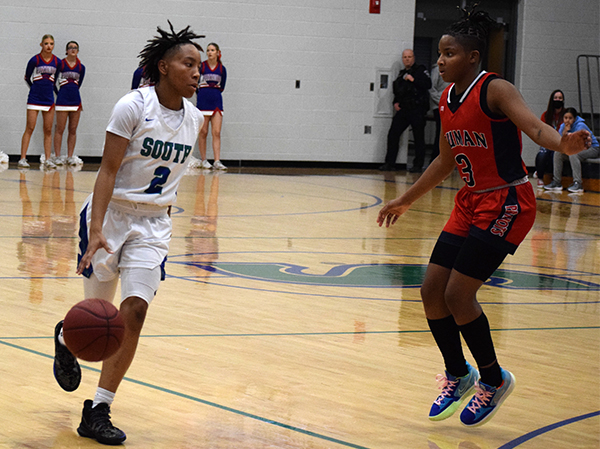 By Karly Bonsasa
Design Editor
Editor's Note: This story was published before the state quarterfinal match. Results have been updated at the end of the story.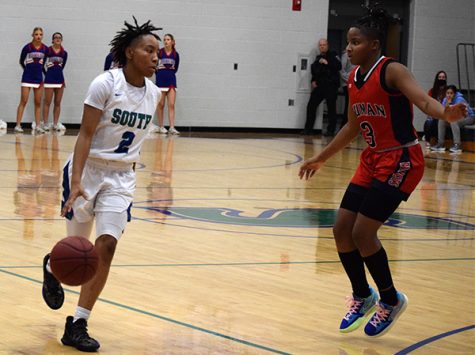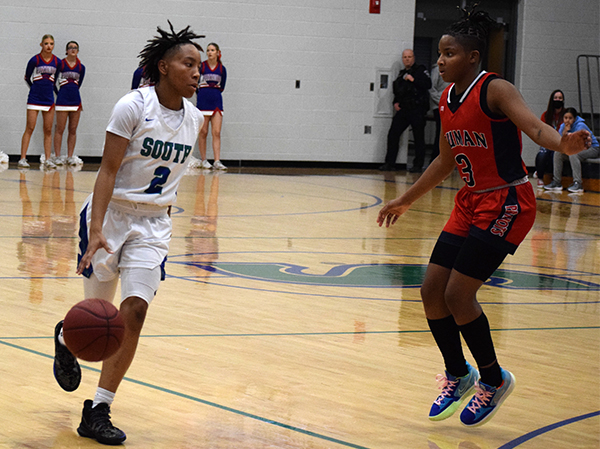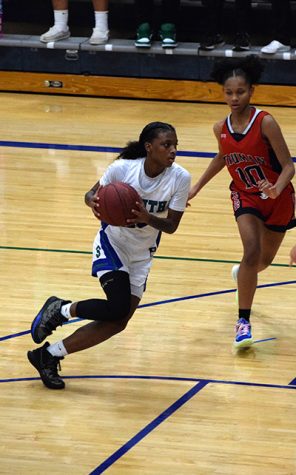 While having a great season and achieving some personal goals, girls basketball won conference title for the first time in the school's history. 
For this year's season, girls' basketball aimed for many things, winning conference title being one of them, and they have done a great job checking off those things off their list. After winning the deciding game against Ray Pec, they gathered in the locker rooms celebrating with their coaches. Coach, Kory Lower, is as excited as they are and proud of them. 
Coach Lower had originally graduated from South after playing here, so when he came back, he had the goal to give students the same great experience he had as a basketball player. He believes the team's success has truly come from the players and their unselfishness; being able to play as a team. And the fact that they are extremely talented allows him to say this year is easy. 
"Our kids are special, they're not just good kids but good people," Lower says about his students. 
Even when they experience their own hardships and struggles, they are able to step up and play together, not relying on one person all the time but playing as a team. 
Seniors Jaidynn Mason and Saneea Bevley can agree, considering the teams' strong bond. 
Plus, they all have many reasons for why they play basketball. 
Jaidynn Mason was a freshman at Park Hill South before coming to Blue Springs South. Lots of her family has played basketball but it was mostly her grandma who taught her what she knows. 
"All my brothers played. My dad played. So, they kind of motivated me to play," Mason says about her family. "My grandma is really the reason why I play. She really motivated me to play because she played, so she showed me a lot of stuff she used to do, so that really inspired me." 
Mason scored her 1000 point early in the season and ended with about 1300. The overall experience, including conference title, has been really exciting for her. Mason believes even if there are sometimes where the team has miscommunications or some one gets hurts, they truly don't let anything stand in their way and they work together to reach and pass their goal. 
Saneea Bevley also scored her 1000th point early on and is only continuing to score more. Bevley used to play softball when she was younger but one day it got boring for her, so she decided to try something new. 
"I just love it. Without basketball I don't know where I'd be. Honestly playing basketball feels great. I was a softball player before, but softball got boring. So, I just tried out basketball and it just worked." Bevley said. 
Bevley believes that the strength of the team really is their bond, whether that's them cheering each other on from the benches or just all of them having fun outside of school. Their bond has carried them the through their season and lead them to going 14-0. 
After beating Columbia Rock Bridge in the district championship, the Jaguars beat  St. Joe Central at at the Cable-Dahmer Events Center in Independence in the state quarterfinal game. The Jags lost in the semi-final match, but bounced back to finish third.