South students show off their love for cooking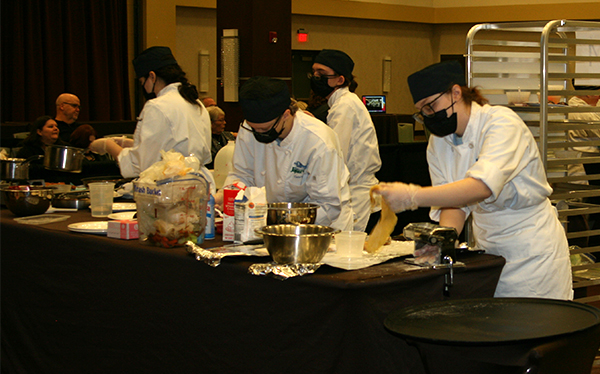 By Mira Asllani
Reporter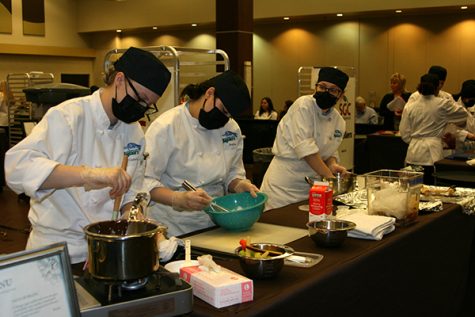 South students have wide-ranging talents and are passionate about many things. One of these passions is cooking, and we have students who can cook more than ramen noodles and eggs. But what has inspired them and where did they learn the art of cooking? Was it while watching "Ratatouille,'' Gordon Ramsay, or cooking their favorite food and baking with their grandmothers?
South's culinary team with its four members, Gabrielle Allen,Sophia Bosenbecker, Carley Ayers and Charles Smith, has shown its passion for cooking throughout the year. 
Culinary teacher Lauren McKiddy talks about how the team she's been working with was formed. 
"Once the students are enrolled in culinary skills, they can be part of the team." These students were interested in being part of it.
Most recently, these students went to the Culinary State competition, which took place on February 17-18th, in Springfield, Missouri, where they won the eighth place. 
McKiddy talks about the rules of the competition. 
"They aren't allowed to use any electrical appliances, nothing that is plugged in. You can only have access to your cooler, ice and water. We bring in dry ice and put it in a styrofoam freezer, so we can create an insulator and freeze our food. We have to cook everything in an hour with two portable burners, like you would almost use at a campsite," said McKiddy.
It is important to note, however, that cooking on a Thursday afternoon while listening to music is not at all compared to the way the culinary students had to compete, where they faced many challenges.
"It went well; the students definitely had a few challenges to overcome. Because we had to leave early( because of bad weather) some of our products froze in the cooler. So our carrots were completely frozen, and they had to adapt to that while we were cooking. They also had to whisk the whipped cream by hand, which is a time-consuming process," McKiddy said.
 Allen admits that it was a stressful experience.
"I was stressed. I thought we weren't going to have enough time, or we would forget something. Thankfully, we didn't. We had to mentally prepare ourselves. We had to tell the other team members how the competition would go. We had to tell them that there's going to be a lot of people watching and judging," said Allen.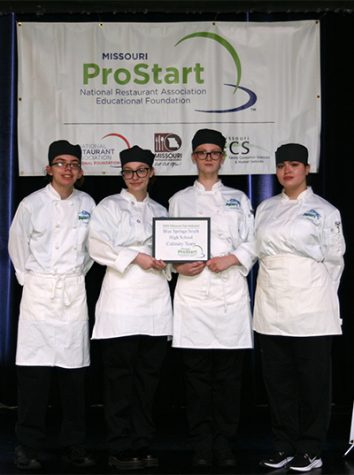 McKiddy talks further about what is required from the students. 
"With the ProStart competition, we have to make three dishes. So a starter, an entree and a dessert. And then for the entree, it has to have a protein, a vegetable and a starch. We start very early on and just try to figure out how we can adapt things and if it can be made without an oven and refrigeration, because there are quite a few parameters to the competition. You just can't cook whatever you would like."
    Allen tells us about what their menu consisted of this year. 
"This time, our starter was a taste of Brazil, because the Brazilian exchange student, Sophia Bosenbecker, was on our team. Our entree was Ravioli Di Mare, and our dessert was a chocolate dome."
Bosenbecker talks further about why she chose that appetizer, which was a cabbage cigar stuffed with sweet & spicy peach palm, atop a panko crusted pork loin served with a gorgonzola bechamel and a honey soy sauce. 
"It is something that I really enjoy cooking. I had the team try a few different appetizers, and they liked this one the best. This wasn't the original recipe, we made some adjustments. So, it wasn't just my choice, it was a group choice."  Since it is Brazilian, they had to order some things that they couldn't find here, like the peach palm, Bosenbecker explained. 
The entrée was a lobster, shrimp, and ricotta stuffed ravioli, a rose of heirloom carrots served with a rich lobster fumet, roasted red peppers and aged parmesan. The dessert they served their professional chef judges was a creamy chocolate mousse in a rich chocolate shell accompanied with a smooth cranberry orange coulis. If all that makes you hungry, you might get the chance to try some of Allen's work as she plans to be a professional chef. 
"I want to join the Navy because they have a really good program. You go through basic training. And then they have this program where you can work as a chef. You can go on ships, travel, and cook for officers. They have multiple areas and paths that you can follow," explained Allen. 
However, make sure not to order pizza with pineapple, as both Bosenbecker and Allen have agreed that it is a crime and should not be eaten. You have been warned. 
Now, besides sharing their least favorite food, these two young cooks also share their favorite one, which is pasta. What's most impressive about the way they make it, is that they cook it from scratch. Would be more than enough to make grandmothers and Italians proud. 
Continuing on what their favorite food was while growing up, Bosenbecker says hers was Brazilian BBQ, and Allen's is green bean casserole.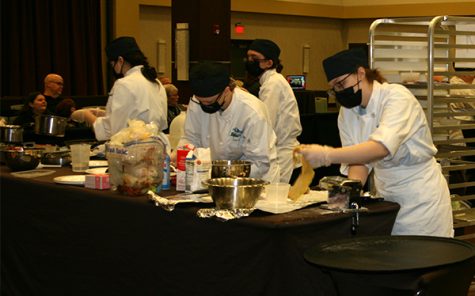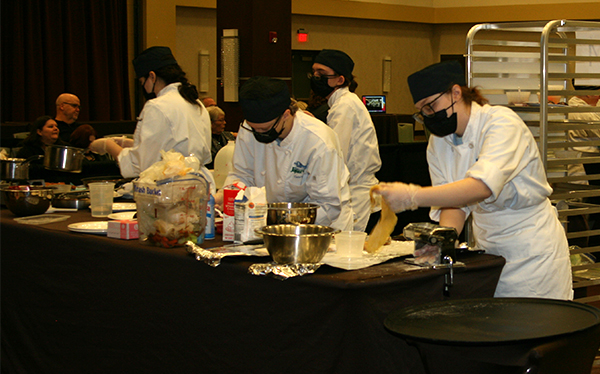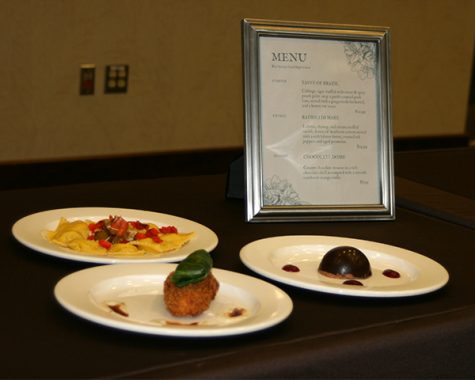 Both Allen and Bosenbecker continue talking about how their families inspired this passion. 
"Cooking is a way to demonstrate love, and it is also a family passion. My mom being a culinary school graduate, my family gathering and cooking together every Sunday and holiday, have all made me love cooking. My parents taught me how to cook from a young age, and it is something that I've been doing since then. It is a tradition that I want to continue here." said Bosenbecker. 
Allen talks about how her grandmothers inspired her as well. 
"It was mostly from my family.      I like baking with my grandma. She used to own a restaurant where she baked so many pies for Thanksgiving or Christmas.She can probably make them in her sleep." said Allen.