Ethan Turner named Mr. Jag
By Kaihli Mitts
Editor-In-Chief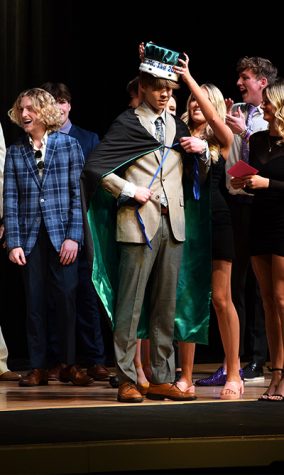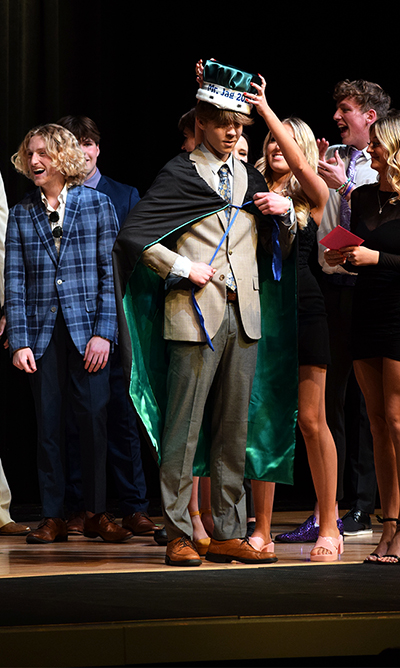 Mr. Jag is an annual event put on by senate at south. The show gives several senior boys the chance to win awards for their talent, attire, and wit. 
Any senior boys who signed up for the event were able to participate, given that they turned in their application forms and the small fee due for shirts and food. Practices and rehearsals were held twice a week, before show time snuck up on them. 
"We had practice on Tuesdays and Sundays. When it [got] close to the actual show, [they were] every day at five and went until ten at night," says Quin Van Wyk.
This year's theme was "South Side Story: Bikers vs. Surfers" and opened with a dance number put on by the twenty-one boys participating in the show. 
"In the opening dance, I was a little too close to falling off the stage and onto the judge's table. Luckily, Matt and I were able to hold each other back to stay on the stage," said Sawyer Jackson, recipient of Mr. Congeniality.
There were four categories of the show, similar to an audition or pageant. The production went right from the dance into the segment called 'Strut Your Stuff', where each participant had 30 seconds to make a good first impression for the judges. The talent portion came next. All twenty-one boys displayed their choice of talent for the audience. Some chose to sing or play instruments, dance, and well… others did a little bit of magic. 
"For talent, I knew immediately that I wanted to play the drum set, but it took me up until the last month to figure out what song I would drum to," says Jackson. "For our first impression it took me about a day or so, and then "Super Sawyer" came to mind, and I knew I had to do it." 
Though some ideas came to mind naturally and quite easily, some people had a harder time figuring out how to sweep the audience off their feet, while doing it as smoothly as possible. 
"The hardest part for me was figuring out how to transition smoothly from playing my drum set to playing the piano for Xave [Bowling]. I had about a two-minute window to get the drum set off stage, piano on stage, and [put] a button up on," Jackson says. "Luckily, I had a stage crew to help."
Followed by an intermission was the 'Date Night' portion of the show. The boys dressed in their best date night attire and gave an answer to what their dream date looked like to them. The Q&A was next up and was the final deciding factor for who takes the crown.
Though there was some tough competition this year; Ethan Turner took the competition by storm and was crowned Blue Springs South's 2022 Mr. Jaguar. In addition to the overall award, there were several smaller awards given out to the winners of each category. Hank Beaird was the Fan Favorite; Sawyer Jackson won Mr. Congeniality; Ryan Verheek gave a great first impression during 'Strut Your Stuff'; Evan Giles took the cake for the talent section; Alex Israelite impressed everyone during the 'Date Night' segment, and Mason Seymour was seen as the boy with the most poise under pressure when it came to the closing Q&A, nodding to a mistake he made earlier in the performance. 
"After Mr. Jag was over, everyone was mingling on stage. I had been practicing with those guys for so long and we finally did it," Jackson says. "It was so much fun to mess around with those guys and put on a good show."
Mr. Jag 2022 
Contestants
Hank Beaird
John Chambers
Joe Eaton
Evan Giles
Gannon Grieb
Alex Israelite
Sawyer Jackson
Brandin Johnson
Landon Mainard
Drew Nagel
Grant Newhard
Braeden Nicholson
Drew Penniston
Matt Randolph
Xavier Bowling
Cooper Boyles
Luke Seib
Mason Seymour
Ethan Turner
Quin Van Wyk
Ryan Verheek